Two centuries of studies, geological surveys, insufficient investments and numerous stops, which have led in just seven years to the construction of a work of high engineering
Exactly 25 years ago, on May 6, 1994, it opened to the public one of the most daring civil engineering works in the history of mankind. We are talking about the English Tunnel, the channel that divides the north coast of France from the south coast of Great Britain. A prodigyof engineeringtechnology that has its roots in the early nineteenth century, when the French engineer AlbertMatthieu-Favier, in 1802, advanced the visionary proposal of a tunnel run by passengers on board horse-drawn carriages
A tunnel illuminated by oil lamps and which, according to estimates made by Favier himself, cost about a million pounds at the time. More than seventy years later, in 1875, Peter William Barlow, after having designed and built the first underground railway, suggested connecting the two banks with a long floating steel tube. The proposal was rejected, but not the idea, which the following year led to the implementation of extensive geologicalresearch, during which the French dug twowells, followed, in 1880, by the South Eastern Railway, which started the experimental drilling from the British side.
In 1881, a drilling machine dug a tunnel parallel to the cliffs, 820 metres long, while the following year the works were definitively blocked due to an objection from the military. The tunnel would have made an attack from the continent easier. A new stop to the resumption of the works, arrived in 1922, after 128 meters of drilling The idea was shelved, also because of the outbreak of the Second World War, but once again, it was not forgotten.
It was the 1957 when the Manche Tunnel Study Group was born, which three years later suggested the construction oftwo railwaytunnels and a central service tunnel. The project started in 1973, but was once again stopped due to financial problems after having built only 250 meters of test tunnel. In 1984, the idea was re-dusted and a private call for tenders was launched.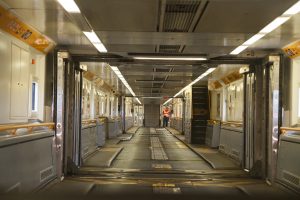 Once agreementwasreachedon the project, announced on 20January 1986, a treaty was signed, the FixedLink Treatyon the following 12 February, which was ratified in 1987. The route connects Calais to Folkestone, crossing the limestone rock, and being 40 metersbelow the bottom of the sea, deeper than previous attempts to build the tunnel. Aftersevenyears of intensive work, 15.000 workers and costs ranging from threebillionpounds to more thanten, on May 6, 1994 the tunnel was opened to traffic. Three parallel tunnels, two 7,6 meters in diameter railway tunnels spaced approximately 30 metres apart and a 4,8 meters in diameter central service tunnel with road vehicles.
Every 375 metres or so, tunnels intersect the two railway tunnels. The centralservice tunnel is designed to provide access for maintenance workers and to provide a safe escape route in the event of an emergency. The two railway tunnels are also directly connected every 250 metres by pressure lines which pass over the service tunnel but are not connected to it. Pipes that are used to eliminate the "piston effect" due to the compression of air caused by the transit of the running train. In short, a concentration of technology and engineering, which has taken two centuries to be realized