According to the National Institute of Geophysics and Volcanology, the volcanic complex has divided the Tyrrhenian Sea into two portions
Only 15 km separate the Tyrrhenian coast of Calabria from one of the largest Italian submarine volcanic complexes developed along a fault in the earth's crust.
The discovery was made by the National Institute of Geophysics and Volcanology through the use of different geophysical techniques including multibeam sonar bathymetry, reflection seismic, magnetic anomalies and seismic tomography.
"The geological evolution of the Western Mediterranean during the Cenozoic era was mainly controlled by the dynamics of the Adriatic-Ionian plate sliding below the Eurasian plate. The segmentation and fracturing of the oceanic lithosphere are processes that commonly occur in subduction systems and involve the formation of portions of plates that are immersed in the mantle", explained Riccardo De Ritis, researcher at Ingv.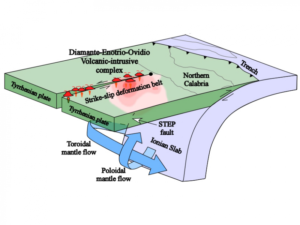 The data of the team, in fact, have indicated the presence of numerous magmatic intrusions that have reached the seabed in different positions that have formed sea mountains and other volcanic features such as chimneys and lava flows. In addition, it was found that the birth of the volcanic-intrusive complex occurred thanks to the fusion of material from the long mantle. In particular, a deep fracture of the earth's crust that has divided the Tyrrhenian Sea into two portions: a western part, whose volcanic buildings have an uneven morphology and deformed by the presence of several fractures, and an eastern part, which instead has volcanic buildings rounded by the flat top that over time has generated cycles of erosion and sedimentation.
In addition, a large area has emerged with numerous magmatic bodies solidified at different depths that go up to the seabed forming volcanic buildings called Diamond, Oenotrius and Ovid.
The results of the research shed light on the magmatic processes that currently occur along the edges of the subduction slabs, as well as on the potential geographical risk in a densely populated region whose volcanic activity was previously considered one of the best characterized in the world.