The exoskeleton weighs 65 kilos and works thanks to the strength of the patients' thinking
One of the great desires of man and, above all, of science, has become reality. In fact, an exoskeleton has been created that can make people walk paralyzed.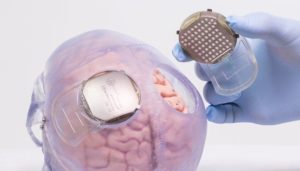 The great innovation was put in place as part of a study with the University of Grenoble Alpes in France that allowed a quadriplegic man to move all four of his limbs paralyzed by replacing two statements of the skull, five centimeters, with brain sensors. The connection to the exoskeleton is then made through electrodes implanted above the outer membrane of the brain. Specifically, the electrodes are 64 and are able to pick up all the electrical signals put by the neurological activity of the patient. In order to handle the innovative instrument in the best possible way, the patient must previously undergo simulations in which he is asked to move the four limbs of a virtual alter ego.
The exoskeleton weighs 65 kilos. Consequently, it is not very easy to use, but it represents a huge step forward in allowing people with severe motor difficulties to move with the strength of their thinking.
At the moment the exoskeleton is connected to the ceiling with a mechanical arm to minimize the risk of falling because it is not yet ready to be used outside the laboratories, as explained by Prof. Alim-Louis Benabid, Chairman of the Board of Clinatec:
"This is far from being a solution for walking because you cannot make rapid and precise movements to avoid falling. Nevertheless, we have shown that we can extend patient mobility in an exoskeleton to give patients a better quality of life".
French scientists say they can continue to refine the technology. At present, they are limited by the amount of data they can read from the brain. They have 350 milliseconds to go from thinking to movement, otherwise the system becomes difficult to control.