New technology promises to overcome the limits of rigid systems while also improving sensitivity to sound dynamics
A physical condition, often disabling, that leads to a reduction in the quality of life is hearing loss. People who suffer from hearing loss due to damage to the inner ear or an inner nerve are not helped by cochlear implants. The best option is brain-stem auditory implants (ABI). ABIs bypass most of the auditory system and send signals directly to the auditory brain-stem. However, the implants are based on rigid components that do not fit perfectly into the anatomy of each patient. This is one of the reasons why ABIs end up being largely ineffective in many patients.
Recently, a research group of the École Polytechnique Fédérale de Lausanne (EPFL) in Switzerland, in collaboration with Massachusetts Eye and Ear and Harvard Medical School, created a flexible hearing implant that overcomes the severe limitations of rigid devices. The flexible device can be placed close to the auditory brain-stem, with exposed thin-film electrodes that embrace the tissue and allow for clean passage of targeted electrical signals. The results are reported in an article published by the Science Translational Medicine journal.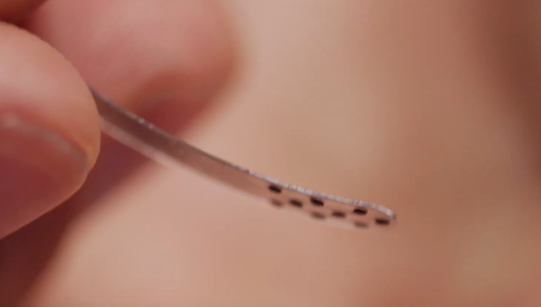 The first tests of the prototypes of the device, which has an area of 0.25 mm square, were conducted on mice. The results showed that the electrodes functioned properly for over a month. The research is currently evaluating the possibility of testing the products on real patients. In addition, researchers believe that the new approach will lead to a much wider dynamic range of perceived sound, with better results than those obtained with existing ABIs.
An important fundamental result of this research has been the development of a series of flexible platinum electrodes, enclosed in silicone, that maintain the properties of the metal of which they are made. Platinum is not a ferrous material, it is bio-compatible and already used in many medical applications. In addition, it can be used in an MRI machine. To make platinum flexible, researchers have engraved extremely thin patterns into platinum using sub-millimeter-scale manufacturing techniques. This approach could be a turning point in the design of hearing implants and greatly improve the lives of many people.
Read and share other news by browsing The Patent