Presented at CES 2020 in Las Vegas by Matrix Industries, Juno allows you to cool a bottle of wine, sparkling wine or two 33 cl cans in seconds, all in an attractive and compact design.

It must have happened to everyone to have sudden guests at home and want to offer a drink and then realize that the fridge was empty. Or they suddenly want a cold drink, like coffee or tea, but you have to wait too much time for the fridge to bring it up to temperature. Matrix Industries promises to provide a solution to this problem with Juno. The appliance works in contrast to a microwave, decreasing the temperature of the drink within seconds.
How it works
The technology behind its operation is called thermoelectric cooling. The drink is immersed in a cold liquid and put in rotation. In this way the hot part of the liquid is moved from the center to the outter zone of the container that is in contact with the liquid in Juno, optimizing the cooling time. The times are really short: a can is cooled in 90 seconds, a bottle of wine in less than 5 minutes.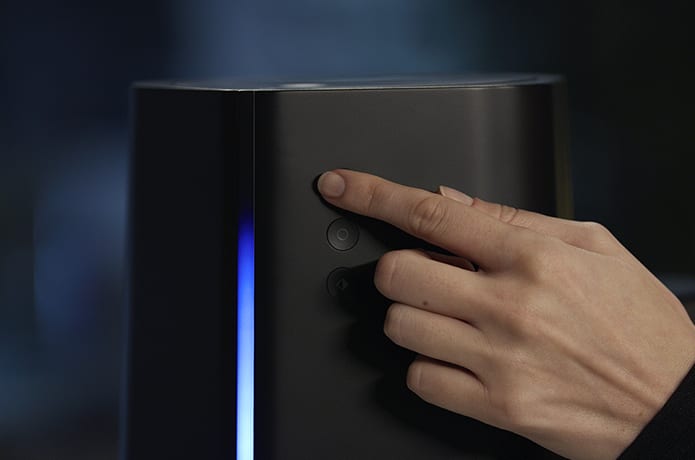 The size of the internal chamber allows you to insert a bottle of champagne, wine or two 33 cl cans one on top of the other. The goal, in addition to home comfort, is to reduce costs in commercial environments. For example, Juno could replace the mini-fridge in hotels, which are always kept in operation even if not used by customers. The removal of mini-fridges would lead to a conspicuous energy saving.
The Juno cooler is still only a prototype, but the final design is clear to the developers. The lines will be modern and the interface will consist of a few physical keys for power on and time setting. To complete it all there will be a LED strip that will change color to indicate the state of Juno and the temperature reached.
Read more news from CES 2020 in Las Vegas and the world of innovation on the website The Patent.