Researchers at the ETH Zurich and the National University of Singapore have developed a new type of bandage that aids blood clotting and does not stick to the wound

As is often the case in science, discoveries also come by chance and this is a classic example. Researchers at the ETH Zurich headed by Prof. Dimos Poulikakos, together with a group from the National University of Singapore, were looking for super hydrophobic materials, i.e. materials that can repel liquids such as water and blood. The final goal was to find a material to coat medical devices that come into contact with blood, such as heart-lung machines or artificial cardiac devices.
One of the tested materials showed another interesting feature with surprise. In addition to repelling the blood, it also helped the clotting process. The property made it unsuitable for use as a coating for blood pumps and related devices, but the researchers soon realized that it would work ideally as a bandage. The material does not soak in blood and does not adhere to the wound, thus preventing secondary bleeding upon removal.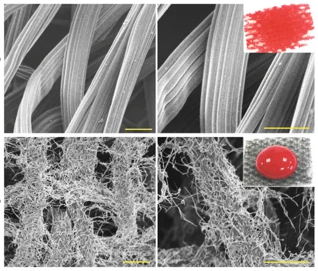 The material, described in an article published in Nature Communications, is the first to promote coagulation while being water-repellent. The double effect is achieved by coating a common gauze with silicone and carbion nanofibres. It is not yet clear why blood clots easily, researchers will need further study to fully understand the origin. One hypothesis is that the blood interacts with carbon nanofibers by changing the clotting mechanism.
Another very useful property is the antibacterial effect. Bacteria have difficulty adhering to the surface of the gauze, so they cannot proliferate. The antibacterial property also reduces the risk of infection, making the material very attractive for use in surgery. The first tests on animals have already been carried out and have already demonstrated the effectiveness of the material.