A research team created a metal-organic structure that is able to condense humidity in the air to produce drinking water in record quantities

Water is a precious resource, especially in underdeveloped countries, where there is a high need for drinking water sources or methods to purify it. Water is also present in the air in the form of humidity in higher quantities than you might think. In this state, however, it is not drinkable and above all not easily accessible. Researchers at the Johns Hopkins Applied Physics Lab have found a material that can collect huge amounts of water from the air.
The research, led by Zhiyong Xia, has been published in the pages of Scientific Reports. The team tested ten different types of metal-organic materials, called MOF (metal organ framework), already known for their ability to interact with water. MOFs are structures with a high surface to weight ratio, just think that a single gram of MOF could cover an entire football field. The huge surface area makes them perfect for capturing and storing water.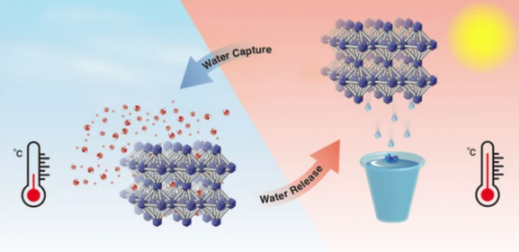 Previous results show water collection capacities ranging from 100 ml per kilogram to 1.3 litres per kilo per day. The new MOF break this record by far. Under optimal conditions, the material could produce 8.66 liters of water per kilogram per day, making it attractive for collection systems to be used in environments where water is lacking. Several types of MOF were tested in the study and provided important information to understand the key properties for optimizing the process. In addition, the effect of temperature, humidity and other environmental conditions on the ability to absorb steam was studied.
The researchers plan to continue studying other types of MOF and their combinations to achieve even greater efficiency. The goal is to produce an efficient material even in the driest conditions, providing a method to collect water exactly where it is desperately needed.