The technology developed by SINN combines three solutions in one, providing the world's first platform that produces renewable energy using the sun, wind and wave motion simultaneously

The world is increasingly pushing for alternative energy solutions. The main sources are sunlight, wind currents and wave motion. SINN Power is the first company in the world to design a platform that combines the three technologies into one. The first test will take place in Iraklio, Greece. The company focuses on modularity, a feature that makes the product adaptable in several cases.
The platform has a base of solar panels installed on a lightweight metal support. Four converters are installed at the top of the metal skeleton to collect wave energy. Above the solar panels there are wind turbines that collect the energy produced by the wind. Tests conducted on the structure have shown that the platform can withstand waves up to 6 meters high.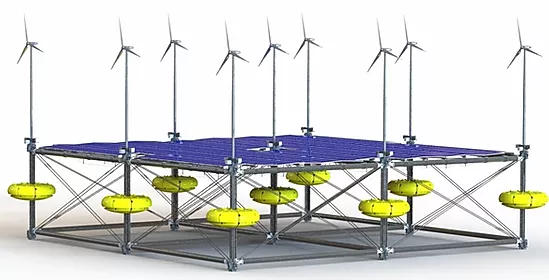 Philipp Sinn, CEO of SINN Power said: "Modularity has been a key aspect since we started developing maritime technologies that allow flexibility and a wide variety of applications. The floating platform […] can contribute to the worldwide implementation of offshore wind farms. SINN Power is the first to offer a customizable energy solution that uses waves, small wind and photovoltaic […] at competitive prices compared to other proven technologies."