BCG has compiled the annual ranking of the "50 most innovative companies" and awarded Apple first place: Alphabet (Google) and Amazon complete the podium.
Apple is the most innovative company in the world. This is the verdict that emerges from the 2020 edition of "Most Innovative Companies", the annual ranking drawn up by the consulting firm BCG. The ranking is based on a survey of 2,500 global executives who were interviewed between August and October 2019, before the Coronavirus explosion. Companies are evaluated based on four factors: Global Mindshare (the number of votes received by all executives globally), Industry Peer Vie (the number of votes received by executives of another company), Industry Disruption (the ability to generate value in an industry other than the industry of immediate relevance), and Value Creation (the total return of shareholders from January 2017 through December 2019). Cross-referencing these data, BCG's experts ranked BCG's 50 most innovative companies in 2020.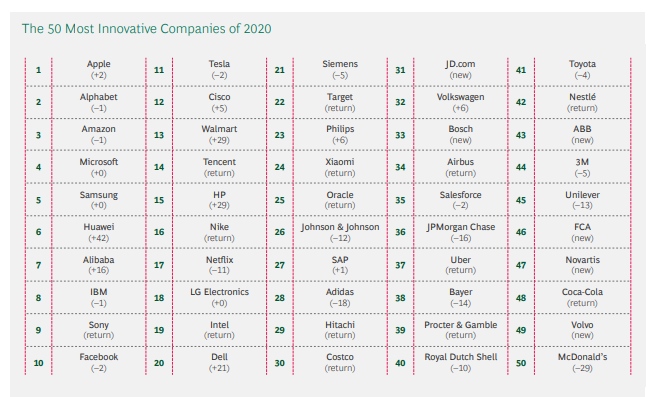 Top 3 innovative companies: Apple, Alphabet and Amazon
At the top of the ranking of the most innovative companies according to BCG appears Apple. The Cupertino giant returns to lead the ranking after its third place in last year's ranking. The top four places are all occupied by American high-tech companies. After Apple, we find Google's Alphabet (1st in 2019), Amazon (2nd in 2019) and Microsoft (4th in 2019). The first classified "non-American" is the Korean Samsung (5th place), followed by Netflix (6th place) and IBM (7th). Facebook, Tesla and Adidas complete the top ten in 2020. 60% of these companies said they have generated an increasing volume of sales of products and services in the last three years. The highest percentage of innovators are in the financial and pharmaceutical sectors (56%), the lowest in industrial goods (37%) and wholesale and retail (32%).  It's not easy to keep the place in the rankings: only 12% of companies have managed to enter the rankings more than ten times while only eight companies have a fixed place in the studio since the first edition in 2005: these are Alphabet, Amazon, Apple, HP, IBM, Microsoft, Samsung and Toyota.
You might also be interested in —> Thanks to a new patent, Apple Glasses will be graduated