The invention is based on the principle of electromagnetic induction and promises to quickly save the bobbins of electric motors from sudden and short circuited failures
Electric machines will occupy an increasingly large share of the market in the coming years. One aspect to take into account is the safety of motors, which are prone to breakdowns and sudden short circuits. The problem could be addressed by the new invention presented by Ka-Wai Huang, Chi-Kit Wong, Si-Teng Wu and Yi-Xing Liang. The inventors are members of the Workers' Children High School of Macao and Macao Innovation & Invention Association and presented the idea during E-nnovate 2020, winning a gold medal. The detector consists of a generator that stimulates the engine bobbins and a probe that precisely positions a strip of metal near the bobbins to recognize the failure. The invention makes it possible to determine the fault quickly, easily and accurately and manages to check the health of the electric motor components. Ka-Wai Huang explains better what this is all about.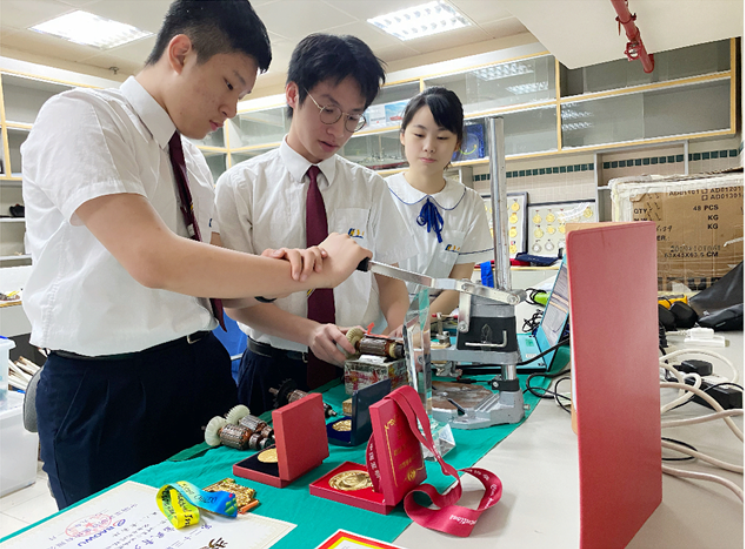 Mr. Huang, can you explain how the birth of your invention? How did you get the idea?
"I joined our school's Science and Technology Innovation group two years ago. I learned a lot, including the use of tools. When I need to use power tools for some of our projects, some of them do not work properly, and some just don't work. I felt it is not very safe using these tools, and it is quite wasteful to discard them. With the encouragement and support of Mr. Liang, I researched and learned quite a bit about motor maintenance engineering. I found that short-circuit faults of the rotor is a significant cause of motor failure. These faults can lead to catastrophic motor failure, which will significantly impact financial investments due to equipment loss, operation downtime, and threaten the safety of the equipment operators. But this short-circuit fault is a challenging problem to identify. And in my physics course learned the laws of electromagnetic (EM). So I researched the interaction between electromagnetic fields and inter-turn short-circuit fault of rotors and came up with a new method for detecting the inter-turn short-circuit fault".
How does your invention improve existing technologies?
"This device consists of two parts: an electromagnetic generator that stimulates the rotor winding and the electromagnetic probe of the ferrous metal band positioned near the rotor winding to be tested. The winding inter-turn short-circuit fault is inspected by mechanical vibration. Based on this invention's design, further improvements were made to design a detector with high detection. It is more convenient for people to use tools in their daily lives. Besides, for the marketability & benefits, the invention enables the user to determine the current health status of the electric rotor winding conveniently, quickly, and accurately. It can better ensure the regular operation of the electric motor components, which is more stable and reliable for tools from all walks of life or people to use motors. Due to the dimensions, large rotors such as those used in power generation are costly and their failures can cause massive safety and cost issues. Our invention should be very attractive because it can also be used for these large rotors. The device is made of renewable materials being environmentally friendly. Respect to the high maintenance prizes, the cost will be very low. But its performance is superior and the best. Our team has constantly been developing this invention for more than two years and it has been highly evaluated by professional committee members in international competitions".
Has the idea already been patented or do you plan to patent it?
"Yes, the invention has already obtained the national invention patent".
What will be the next step? How do you plan to implement your invention or its diffusion?
"The development process of the invention will have several generation: motor rotor short circuit detecting device, motor rotor short circuit detecting device based on electromagnetic induction law, electromagnetic induction based rotor winding inter-turn short circuit fault detection device for electric motor, motor rotor winding based on audio recognition technology, quality discriminating device (actually in research and development). With the future iterations, we will incorporate a motor quality discrimination device based on audio recognition technology, which will be endowed with intelligent technology, replacing the process of manual quality inspection. Frankly speaking, we can use a larger EM generator with a higher power to cover a larger area, then use high resolution electric and magnetic sensors to detect the disturbance with the EM field. With this device, we have proven the physics and working principle of using an EM generator for detecting rotor short-circuit fault. In some way, this is a proof-of-concept that can serve a starting point for developing a fault detector for larger motors".