The device, manufactured by Ampere, is equipped with a UV light that disinfects common objects such as smartphones, keys and earphones
The smartphone, as you know, is one of the dirtiest objects we use during the day. The focus on cleaning and sanitizing has increased even more after the health emergency caused by the new coronavirus. In March, large companies like Apple invited users to take care of the cleaning of their iPhones. Today a new gadget comes to our aid, designed to ensure a high level of cleanliness of the objects we carry in our pockets all day long.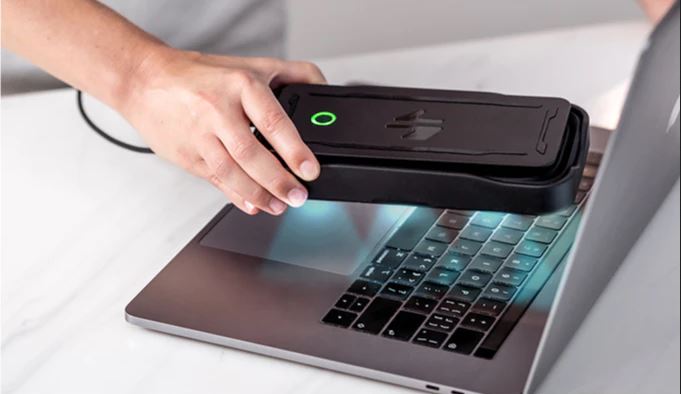 Cell is a box with a foldable design and contains two wireless charging coils and an LED light that produces UV rays. The light sanitizes the surface of the objects it radiates, killing 99.99% of germs. Cell can then sanitize a smartphone, a bunch of keys, credit cards or a watch. The device can also be used as a kind of torch to sterilize larger areas, such as door handles, keyboards or packaging.
You might be also intrested in -> Samsung presents SelfieType, the invisible keyboard designed for smartphones
Coils, on the other hand, allow the smartphone to be recharged wirelessly. Cell can also charge a second smartphone simultaneously via a USB-C output. The gadget is designed to fold into a corner so you can use your smartphone on the stand while charging. The surface is covered with an anti-friction layer that ensures a firm position of the phone. Cell is the subject of a crowdfunding campaign on kickstarter and has already exceeded its initial target in just 7 days.