The Wild Rumpus organization has created an online database with the natural sounds of 600 forests, woodlands and green areas around the world: each user can add his registration and enrich the "sensory database".
The call of the forest really does exist. And you can listen to it online. Wild Rumpus – a British art association for the protection and preservation of nature – has designed and "built" a web portal where you can listen to the sound of green areas, woods and forests all over the world. The project is called Sounds of the Forest and was developed in partnership with the UK National Forest Company. It is a real online database with over 600 recordings of natural sounds. The files come from 60 countries around the world. Thanks to an interactive map, users of the site can choose which sounds to listen to. They range from the Loire forest to the Scottish forest of Glenn Doll, from the Marguerite-D'Youville wildlife refuge in Châteauguay (Quebec) to the Yus Conservation Area in Papua New Guinea. You can also "visit" two Italian locations. One recording was in fact made in a forest near Gubbio (Umbria) while another was made at Villa Salviati in Florence.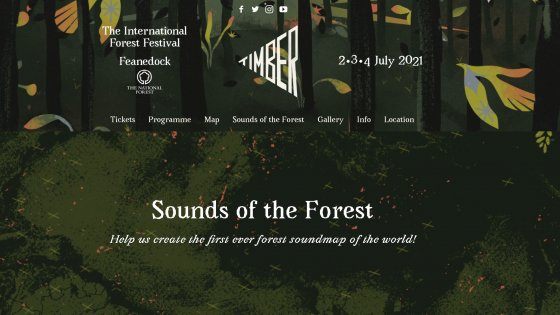 Read also —> The first "talking forest" connected to the IOT was born in Piegaro
An online database to listen to the sounds of the forests
"When we realised that we would not be able to meet in person this year because of the pandemic, we set up a sensory project that was democratic and open to as many people as possible, something that could create visceral emotional connections between people and nature," explained Sarah Bird, co-director of Wild Rumpus. It is widely known that time spent in nature can help lower the heartbeat and increase overall well-being. If we can't spend time in the trees, this is at least a help. The map also serves as an archive of ecosystems, which are being transformed very quickly by climate change". The Sounds of Forest project is inspired by wiki logic and is constantly evolving. Every user can contribute to the growth of the "sensory database" created by Wild Rumpus. Just go to a forest or a forest (but also to a villa or a garden nearby) and take a picture without people and make a one-minute audio recording (you can use the free Voice Record Pro app). The files are then uploaded online (here) in mp3, wav or m4a format. Do you hear the call of the forest?
You might also be interested in —> "Adopt a cow" from a distance: online is boom of requests