The rear-view mirrors on the new Lexus ES Hybrid are digital and connected to high-resolution compact rear-view cameras. The cost is not for everyone: $1800.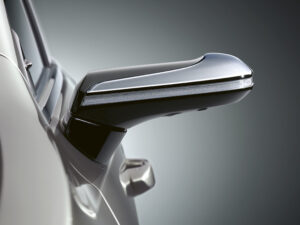 Sometimes it's the small details that make the difference. Especially when it comes to comfort and safety while driving a car. The confirmation comes from the car manufacturer Lexus. In the latest model of the ES Hybrid – the flagship of the luxury team founded in 1989 – Japanese designers have introduced a real technological gem: digital rear-view mirrors. These are real interior monitors connected to high-resolution compact rear cameras. The cameras record what is happening behind the vehicle. The images are reproduced in real time on a 5-inch monitor on the side of the steering wheel. In this way, the driver can have a complete view of the road or any obstacles that "appear" when the vehicle turns or reverses. All without ever taking your eyes off the road.
You might also be interested in —> Paris announces the creation of the flying urban transport department
The rear-view mirror revolution
Digital rear-view mirrors serve to increase safety in the car, eliminating driver blind spots and minimising distractions. A heater system prevents the rear cameras from freezing or fogging up, while a light sensor reduces the effect of other cars' high beam headlights. "When the driver uses the turn signals or engages reverse," explains the Lexus designers, "virtual mirror monitors automatically provide an extended view of the area alongside and behind the car, eliminating blind spots and allowing safer manoeuvring. A menu function also provides access to system settings, including brightness and – a unique feature of the Lexus system – automatic camera retraction when the car is parked. All this technology, of course, comes at a cost (and is not exactly within everyone's reach). To get digital mirrors on their ES Hybrid, a driver has to pay $1,800 for it.
Read also —> Eliminating car blind spots: the idea of a 14-year-old car