Life and work with 6 sunrises and 6 sunsets are certainly not facilitated aboard the International Space Station, which continuously orbits our planet. More and more, however, are increasing contributions from the different areas of technology, in particular from that wide range of
capabilities offered by deep learning and machine learning.
In a few days it will be the turn of a new model of supercomputer, developed by Hewlett Packard Enterprise in collaboration with NASA.
It will be sent to the ISS with the flight "Cygnus NG-15"; and
by integrating with Microsoft's Azure Space cloud, it will allow to drastically optimize the processing times of increasingly new and complex data that every day put to the test the astronauts
around the world, "commuters"; between planet Earth and the second home on the edge of the cosmos, in activities that require millimeter perfectionism and maximum responsibility.
An edge computing system that accelerates the time to insight and allows instant feedback during the various operations and scientific experiments in zero gravity:
– Real-time monitoring of astronauts, physiological conditions (X-rays, ultrasounds and other medical data).                                                                        – Monitoring the status of remote sensors of the station and other satellites
– Monitoring objects in the Earthgravitys atmosphere and in space
– Trend of car traffic on earth and quality control of emissions
This is the second model of the supercomputer already launched in partnership with NASA in 2017 and which passed that test field, due to the stresses to which it was subjected during the launch phase. Other than a commercial server, which we already employ on Earth and whose operation in zero gravity and in the presence of high levels of radiation, it has therefore been successfully confirmed.
Powered by the HPE Edgeline Converged Edge system and HPE ProLiant server, Spaceborne Computer-2 will see its installation on the ISS this month, to remain there for the next 2-3 years, in order to assimilate and process data from a variety of devices, including satellites and cameras, and process it in real time, able to send it back to Earth later in a very short time (a few days vs. monthly latency), while managing the significant amount of bandwidth.
"Space explorers can now change the way they conduct research based on readily available data and improve decision making," said Dr. Mark Fernandez, solution architect at HPE and principal developer of the Spaceborne Computer-2 supercomputer.
Along with the HPE Edgeline Converged Edge systems, already extensively tested on our planet in those particularly hostile environments, such as oil and gas refineries, manufacturing plants or even in defense missions, Spaceborne Computer-2 will be equipped with the HPE ProLiant DL360 server, a high-performance industry standard server.
In short, this edge computing system will represent an opportunity and a significant leap in quality for research and monitoring carried out by scientists around the world, which will be able to assist astronauts in the definition of atmospheric and space phenomena, such as:
– the study of techniques and liquids for growing plants in space, in order to conduct experiments in food science and thus better define the possibilities of life in space
– Analysis and modeling of lightning on Earth and sandstorms on Earth to infer "Martian life".
– Advanced medical image analysis to support astronaut healthcare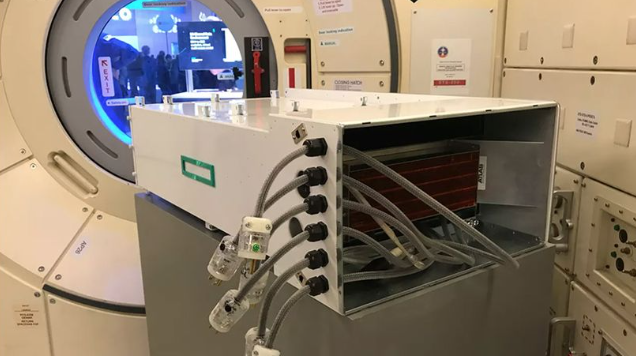 Spaceborne Computer-2 will then see, in 2022, also the presence of Samantha Cristoforetti, who apparently will be engaged in the Artemis I mission, in which Italy with the ASI is among the major signatories (to think that the Italian Space Agency contributes more than 40% to the ISS). The launch is scheduled for November 2021 and will be carried out, through various operations
of extraction, study and mapping of chemical data now cosmic now terrestrial, in anticipation of future lunar bases. Who knows, maybe we will see our Samantha tread the ground of the Moon!
Author: Francesco Carleo