INTARG®2021 VIRTUAL IS A MODERN APPROACH  TO THE IMPLEMENTATION OF AN ONLINE EVENT!
Welcome to XIV edition of the International Invention and Innovation Show& Competition INTARG® 2021 Online (Poland, 15-16 June 2021). INTARG® is a forum for international promotion of representatives of the word of science, industry and business. INTARG® will present inventions and innovative solutions from various industries and fields and from many countries around the word, applicable in industry, environment protection, medicine, as well as improving safety, quality and hygiene of life.  
As every year, INTARG® 2021 is organized with the great support of the Polish Ministry of Development, Labour and Technology, Federation of Inventors' Associations IFIA and World Invention Intellectual Property Associations WIIPA and many other leading institutions: the Patent Office of the Republic of Poland, Mayor of Katowice, The National Centre for Research and Development, Chief Technical Organization Federation of Scientific and Technical Associations, The Main Council of Research Institutes, Polish Chamber of Commerce for High Technology, The Polish Chamber of Commerce. Silesian University of Technology is the substantive patron of INTARG. Also multiple institutes and more than 20 media agencies took the media patronage over our event. 
Detailed information about this event, exhibitors and the program of the Fair as well as the patronage and partners granted to the 14th edition of INTARG® 2021 will be constantly updated on our website. (since May new look of www.intarg.haller.pl)
The 14th EDITION OF INTARG® 2021 POLAND will be held on 15 and 16 June in the online formula.
Due to the ongoing epidemiological threat, the online formula will be a unique and safe opportunity to widely promote innovative products, technologies and services from various industries and fields on the international forum. Participation in this event also gives the opportunity to gain valued references in the form of high-ranking awards and medals.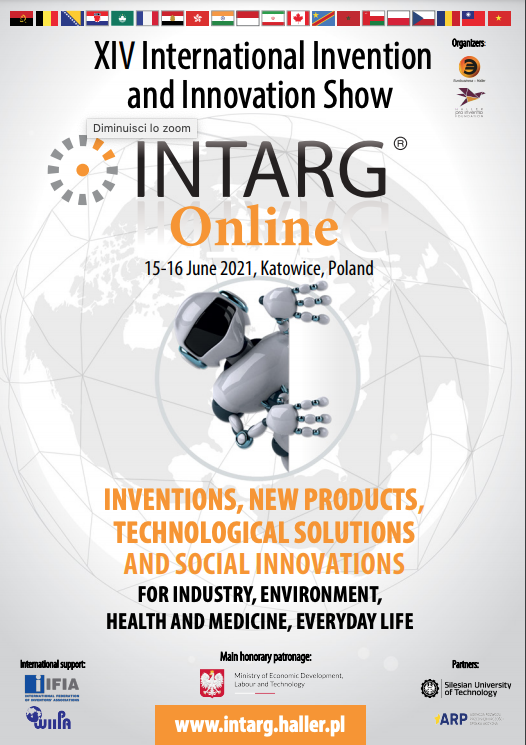 INTARG®2021 Online, POLAND is a modern approach to the implementation of an online event!
The fair will be held using an innovative, professional, functional online event platform , enabling – both in the exhibition and conference part of this event – global reach. The organizers of this event provide interactive communication channels (chat, video, audio) with an unlimited number of participants, ensuring contact between exhibitors and visitors from around the world in a virtual space. In addition, the INTARG® 2021 internet platform enables personalization of online exhibition stands with a wide presentation of static and dynamic content and images.
Access to the entire event (stands, materials, recordings, etc.) will be possible both from computers and mobile devices for 30 days from the date of the event. Information materials about the Exhibitors, their offer and the results of the Competition will also be published on www.intarg.haller.pl and available until April 2022. 
INTARG® CONTEST 
Inventions and innovations will be evaluated by the INTARG® International Jury. The main criteria of evaluating presenting solutions are: level of innovativeness, market demand for a particular product, comparison with world substitutes, TRL level, possibilities of implementation and commercialization, economic and social effects, etc. Jury will present the following: Grand Prix, platinum jury medals, gold, silver and bronze medals and awards founded by patrons, partners and foreign delegations
PROGRAM: 
INTARG® Contest, conferences, discussion panels, presentations and the award ceremony. 
GOALS:
international exchange of business contacts between representatives of the world of science, industry, business and finance;

promotion and commercialization of inventions and innovations;

technology transfer;

obtaining prestigious references by exhibitors in the form of medals, awards and distinctions
EXHIBITORS CATEGORIES:
Industry (industrial machinery and equipment, engineering, metallurgy, electrics and electronics, energy, textiles, construction);

Transportation and Logistics (Automotive, Aerospace, Marine, Packaging, Storage, etc.);

Biotechnology, nanotechnology, chemistry;

Environment;

Health, medicine, fitness;

Sports, rehabilitation, recreation, physical education, tourism;

Food industry and food;

Security and protection;

Everyday items (jewelry, hobbies, decorations and design, games and toys, home, garden);

Services, consultancy, insurance, finance;

IT 
EXHIBITORS 
Representatives of many countries around the world, representing:
units of the sphere of science

SME enterprises and large enterprises

start-ups, young inventors

institutions and other entities supporting or cooperating with science, local governments

industrial associations and chambers

entities offering advisory, financial, etc. services 
VISITORS
All interested in innovations and inventions, both for business and cognitive purposes:
entrepreneurs of various industries;

representatives of the sphere of science;

business entities interested in cooperation with science;

entities interested in expanding their business offer with innovative products, services and new technologies;

institutions supporting business and innovation;

youth;

media 
XIII EDITION OF INTARG® 2020 AT A GLANCE
more than 20 Polish and International

institutions supporting INTARG®2020

exhibitors from 16 countries:, Bosnia and Herzegovina, Hong Kong, Indonesia, Iran, Yemen, Canada, Morocco, Poland, Romania, Saudi Arabia Sweden, Ukraine, USA, Thailand, Taiwan, Vietnam;

284

inventions 

26 international jurors;

more than 20 media agencies

supporting INTARG®2020

prestigious awards: Grand Prix, Pro Societas Bono, platinum, diamond, gold, silver and bronze medals; Awards from the Ministry of Science and Higher Education, MFiPR, MRiRW, UPRP, NOT, PIE, IFIA, WIIPA, KOWR, Polonia International Foundation; foreign delegations; distribution of the "Innovation leader" statuettes and many more.  
ORGANISATIONS INFORMATIONS OF XIV EDITION OF INTARG® 2021
Registration: until

15th May 2021

(to e-mail address:

intarg@haller.pl

)

 

Official results of Competition will be published on 20th June 2021

 

Contact:

e-mail:

intarg@haller.pl

,

Patrycja Wawro

tel. mobile Poland/WhatsApp:  
+48 690 096 224