Do you know?
SOBAR is a first of its kind snack designed and clinically validated to reduce alcohol absorption.
Quitting or avoiding alcohol isn't always easy, especially if you've been misusing alcohol for years. However, there are many benefits of taking the steps needed to stop alcohol use, both mental and physical. Here I am sharing a product which recently got patents for its great quality, it has been granted an allowance from the U.S. Patent and Trademark office (USPTO) for its Alco-HOLD, food-technology core to its SOBAR protein bar brand. SOBAR is a first-of-its-kind snack designed and clinically validated to reduce alcohol absorption and "slow a drinker's buzz."  discuss a few of these benefits, helping to provide additional motivation to quit alcohol for good.
Before moving towards the benefits of quitting alcohol, it's helpful to understand the risks of higher levels of alcohol use. Heavy drinking can take a major toll on numerous aspects of your health, elevating your risk of many disease such as
  Alcoholic hepatitis

                Anxiety

                Arrhythmia (irregular heartbeat)

                Cancer

                Cirrhosis

                Dementia

                Depression

                Digestive issues

                Fibrosis

                Hearing loss

                High blood pressure

                Pancreatitis

                Sexually transmitted infection

                Stroke etc.
About SOBAR with Alco-HOLD
SOBAR is a high-protein functional food designed to be consumed right before or during drinking to help control alcohol absorption. The bar uses a proprietary mix of ingredients, Alco-HOLD (U.S. patent application #16/257,315), formulated to hold alcohol in the stomach longer where it can be more effectively metabolized.  SOBAR demonstrated remarkable efficacy in a randomized, SOBAR is also a nutritious functional protein bar, perfect for an anytime snack, currently available in 3 gluten-free flavors. 
According to the Zeno functional foods, LLC, SOBAR was the winner of the World Food Innovation Award in 2020 as Best Health or Wellness Food, and recently in 2022 as Best Functional Product, and also named as a Game Changer by FOOD & WINE magazine in its July 2021 issue. SOBAR was invented by Dr. Joseph Fisher, MD, PhD, a Stanford trained medical scientist, as an aid to help reduce and slow alcohol absorption and is being recognized as pioneering an entirely new functional food category. A perfect for the mindful drinker, the cocktail connoisseur, or before a happy hour, this smart and functional snack can reduce alcohol absorption by up to twice as much per calorie as compared to other conventional foods. Most recently, Ambev S.A., the top beer producer in Brazil and subsidiary of AB InBev, the world's largest brewer, teamed up with Zeno to pilot a version of SOBAR in Brazil.
It is adelicious gluten free flavors. A satiating and nutritional powerhouse, with 12g of protein and only 130 calories per bar. Drink smarter by eating a SOBAR first!
Now, need not to worry if you can't just quit drinking you have a solution which might help you in minimising the risk of having hazardous disease!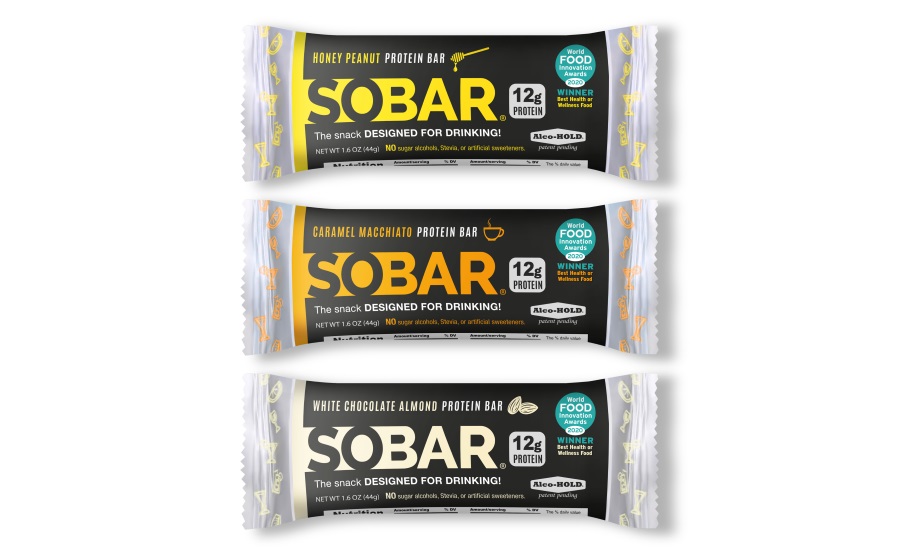 Author: Bhawna Bana