Macao International Innovation & Invention Expo (MIIEX) has brought inventors and entrepreneurs together over the years with its expo from all over the world to interact and share their invention experiences.
For this tenth edition we list the details:
1. Purpose:
In response to the guidelines given in the China's Fourteenth Five-Year Plan, the Guangdong-Hong Kong-
Macao Greater Bay Area and The Belt and Road Initiative, Macao International Innovation and Invention
Expo is intended to develop a platform for entrepreneurs and teenagers from all over the world to
introduce and share their brilliant inventions as well as exchanging the advancement and application of
science and technology in different relative fields. We also warmly celebrate the 23rd anniversary of the
founding of the Macao Special Administrative Region with guests from around the world.
2. Significance
For a long time, this event has attracted many participants from all over the world. Many participants
reported that they have benefited a lot from the competition. After communicating with players from
different regions, they have broadened their horizons and brought new innovative ideas, had a deeper
understanding of Macao's more than 400 years of Chinese and Western cultural history.
3. The organizational units:
(1) Guidance unit: China Association of Inventions (CAI);
(2) Organizer: Macao Innovation and Invention Association (MiiA);
(3) Co-organizers: World Invention Intellectual Property Associations (WIIPA), Hong Kong Federation of
Invention and Innovation (HKFII), Hong Kong Invention Association (HKIA);
(4) Online Co-organizer: Huafa 7IPR National Intellectual Property Operation Platform;
(5) Support Units: International Federation of Inventors' Associations (IFIA), Macao Science Center,
Guangdong-Hong Kong-Macao Greater Bay Area Innovation and Invention Association;
(6) Media Partners: Macao Satellite TV Western Organization/The Patent Magazine (IFIA & MiiA Official
Media Partner, https://www.thepatent.news/ ).
4. Exhibition venue:
The conference hall of the Macao Science Center [ Conference Hall, Lobby
Exhibition Center, Exhibition Center Atrium G15 exhibition hall]
5. Competition items:
Innovative Invention Works Project (Participants can choose to participate in online or on-site exhibitions)
Enterprises, students (individuals or groups of 7 people), individuals or groups (within 7 people)
participate in the competition in the form of innovation and invention works.
6. Important Events Schedule:
With the influence of the COVID-19 pandemic, the 10th Macao International Innovation Invention Expo
(MiiEX) will be conducted online and on-site. An award ceremony will be held at the Convention Hall of
Macao Science Center. All of you are welcomed to attend the grand event.
(1) The online registration will be effective on12/7/2022, Applications will close at 6 p.m. on12/ 9/2022;
(2) Internal review by the judging panel (online participants): 15/9/2022 to 3/10/2022;
(3) Decoration of exhibition: 12/10/2022 1P.M. to 6P.M. ;
(4) On-site review by the international judging panel (on-site participants): 13/10/2022 to 14/10/2022
(Sunday) 10 A.M. to 7p.m. ;
(5) Welcome dinner (invitation only): 13/10/2022;
(6) The booth in the lobby exhibition hall will be dismantled at 6:00 P.M. on 14/10/2022 to prepare for
the roadshow and award presentation ceremony the next day;
(7) The results announcement date on the website and in the conference hall of the Macao Science
Center: 15/10/2022 at 3:00P.M. ;
(8) Award Presentation Ceremony: 15/10/2022 at 4:30P.M. in the conference hall of the Macao Science
Center;
(9) "Culture Journey" : 16/10/2022, 9 A.M. to 5P.M. .
7. Registration and online registration procedures:
(1) Please contact MiiA, Expo Advisors, co-organizers or support units for further instructions and
procedures before 12/8/2022. The relevant units will provide accounts and passwords required for
online registration procedures;
(2) The online registration system will be open from 12/8/2022to 12/9/2022 at 18:00 MACAO time;
(3) It is important for participants to complete the online project registration before 12/9/2022
(http://www.miiex.net/ );
(4) If the registration is successful, the sentence "completed, thank you!" will be shown up after the
final submission. But in order to ensure that the registration has been completed successfully, please log
in again with your account and password. If the data exists, it means the registration is successful.
8. Eligibility:
(1) Individuals, enterprises and students are welcomed to sign up for the competition in the two
participation categories, the Enterprise/Individual category and the Students Categories.
(2) Innovative, advanced, scientific and practical inventions completed within the past year (after 9/
2021);
(3) Exhibits that have participated in any previous MiiEX exhibitions are not qualified for registration
(except those with obvious and distinct improvement);
(4) Scientific research papers cannot be registered for this Expo.
9. Video submission requirements:
(1) Please upload your introduction videos by using video platforms such as YouTube, and provide the
video link in the online registration;
(2) Please set the viewing permission of the video to "public";
(3) Video duration: Within 2~3 minutes (including the opening and ending of the video), the video should
include but not limited to the following contents: introduction of the creation process of the work, the
characteristics of the innovative invention, creativity, marketability/profitability, and operability.
10. Requirements for research report submission of projects:
(1) The report should explain thoroughly in the three main aspects as mentioned in the rubrics: creativity,
marketability / profitability and operability. The report should be written no more than 500 words. It is
recommended to include diagrams of the front, left and right views or the structure diagram of your
project, it will be better if related research or experiment data is provided;
(2) The first page should be reserved for the introduction, and the other pages should include the
contents as mentioned. In order to let the judges know more about the project, the patent certificate (if
any) can be posted in the report; any previous award certificate can also be included (if any, only the highest award certificate; other awards history can be listed in words);
(3) The report should be no more than 4 pages of A4 paper, with one poster introducing the invention.
Please compress the picture if necessary and submit it in PDF format, the document should be less than
6MB;
(4) The name of the file should not be too long, preferably in 10 characters, and should not contain ()
and"".
11. Exhibitors' notices:
(1) The awards of all winners will be sent by international airmail. Please provide accurate and
detailed address (Chinese or English) and postcode;
(2) Each entry is only accepted to be completed by a maximum of three participating units or
seven inventors. The relevant information must only appear on the same certificate and cannot be
separated.
12. On-site Participants:
Exhibition booth, exhibition stand:
(1) size of exhibition booth and exhibition stand:

13. Charge and arrangement:
(1) Each standard exhibition booth can put up 3 exhibits, exhibitors who have fewer than three exhibits
will be arranged to share with others and the cost of each exhibit is USD960/EUR951. The exhibition
stand is only available to students and can put up one exhibit only, the charge is based on the above
table1;
(2) Charges of each exhibitinclude cost of exhibition booth/exhibition stand (basic electricity,tables and
chair), evaluation fee for a work, an award certificate and medal (only for those having awarded)
(3) The conference will issue relevant registration forms to all participants. If you need to purchase
additional award certificates or medals, please fill in accordingly;
(4) There will be no refunds whether the registered participants attend in the "Cultural Tour" or not.
14. "Cultural Tour" in Macao
(1)Tickets for additional tickets for Cultural Tour need to be purchased, it is USD60/EUR59.40 for
each. Registration is required at the time of registration, and on-site additional purchases are not
accepted;
(2)Ticket for Cultural Tour includes coach transfer, entrance fees to tourist attractions, tour guide fees
and lunch fees (Note: Insurance is not included, please purchase by yourself).
15. Poster format of showing boards of exhibition booth and exhibition stand:
(1)Poster Size:90mm(w) x 120mm(h); Electronic AI posters will be provided to online and on-site
exhibitors;
(2)Display board posting requirements: In order to avoid damage to the board, the conference will
provide double-sided adhesive tape, please collect it from the on-site staff.
16. Evaluation Rubrics:
(1) All participating projects will be reviewed and evaluated according to the rubrics given (Table 3);
(2) Participants' introduction videos take up 50%; post and project introduction materials submitted
in the online registration take up another 50%;
(3) An International Jury Panel will be invited from CAI, WIIPA, HKFII and HKIA and friendly organizations
around the world to review the projects.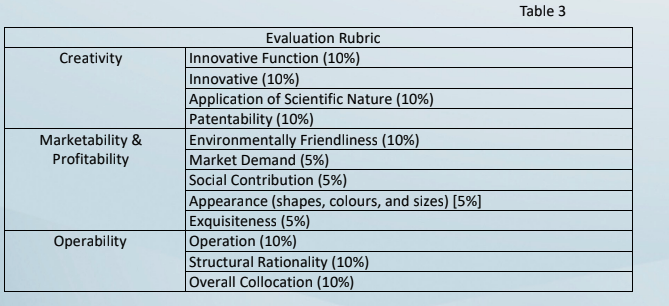 17. Invention categories:

18. Reward methods:
(1) Qualified innovative invention exhibits will receive relevant medals (Gold, Silver and Bronze) and
award certificates;
(2) Best Organizer Award will be presented to outstanding organizations with more than 10 exhibits;
(3) Six participants (Must have a patent registration) from each of the two participants categories
(enterprise/individual and students) with excellent innovation projects will be granted the Grand Award
of the General Assembly in their respective innovation categories. Awards in their respective categories
include International Environmental Protection Award, International Innovation Award; International
Invention Award, Best Market Potential Award, Guangdong-Hong Kong-Macao Greater Bay Area Awards
and The Belt and Road Initiative Award;
(4) All awards will be presented in the Award Presentation Ceremony, if the winner cannot attend the
ceremony in person and not able to send a representative, the award will be sent by express mail to the
participants address as registered. Noticed that related expenses will have to be paid by the winner. The
postal charges are shown at Table 5. (Countries or regions not in the table will be quoted separately).
For more information visit the website https://www.mitexpo.mo/en/index or write to info@miiex.net.
Press Release Macao Innovation and Invention Association