In northern Pakistan in the Himalayas, within a valley that lies at 2700 m and is surrounded by some of the highest mountains in the world and by glaciers millions of years old, lives the Hunza people.
This Himalayan population – also called hunzakut, buruscio or bruscio – lives in the northern Pakistani valleys of Hunza, Nagar and Yasin, and is among the longest-living in the world.
In fact, the Hunza live an average of 130-140 years and, above all, do not experience many of the most dreaded modern diseases such as cancer, degenerative diseases or diseases of the nervous system.
The Hunza not only live long lives, but know practically no degenerative diseases, not even the dreaded cancer.
This people live on the border with Pakistan, inside a valley in the Himalayas, where the oldest people of the tribe at the age of 100 still work in the open air fields and are still incredibly active.
Many have spoken of them: the writer Ralph Bircher wrote about them in a book entitled 'The Hunza, a people who ignored disease'; the English physicist G. T. Wrench (author of 'The Wheel of health: the sources of long life and health among the Hunza') who has studied them for years, cross-referencing his research with that of the early 1920s Scottish physician Mec Carrison. In particular, Wrech dwelled on how this people knew how to use the soil, through cultivation methods that were already more than sustainable at the time, without chemicals or pesticides.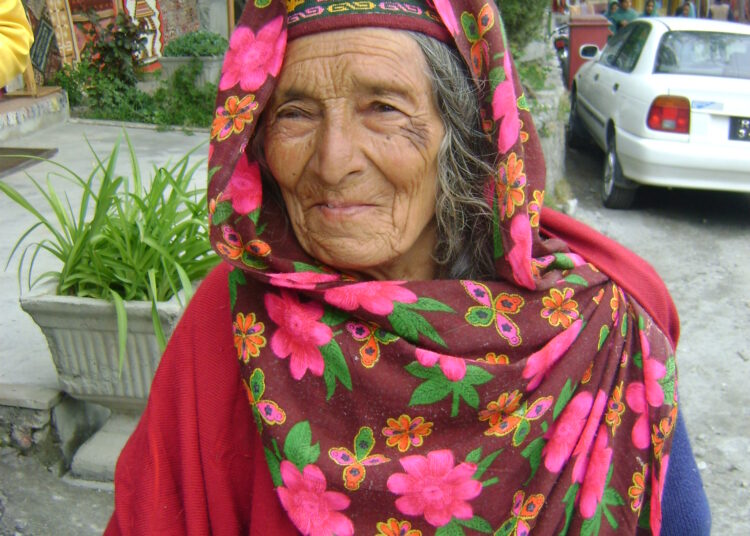 Theirs is a predominantly vegetarian diet, made up of grains, such as barley, millet, buckwheat; a lot of futta, especially in summer, and especially apricots, but also blackberries, peaches, pears, pomegranates, apples, cherries, nuts; they eat wholemeal bread, sprouts and wheat germ.
Among vegetables, they prefer cabbage, turnips and radishes, spinach and tomatoes; but also garlic, cauliflower and onions, which they cook quickly, blanched in water; they use a lot of pulses, especially boiled lentils, and consume very little meat (cow, yak, sheep or goat) and the cheeses they eat are mainly fresh. They use cold-pressed seeds and kernels to obtain vegetable oils that they use to season their dishes, such as apricot kernels, linseed and fresh walnuts.
But the fundamental element for the longevity of this people is something as simple as it is essential in the life of every human being: WATER.
This seems to be the elixir of youth for the Hunza. But the water in question is a 'special' water.
The Romanian scientist and engineer Henri Marie Coanda (Bucharest, 1886-1972), the father of fluid dynamics, one of the pioneers of AEREODYNAMICS and modern FLUIDODYNAMICS, together with various ethnologists, had long studied the habits of the Hunza and before them those of five other Himalayan ethnic groups with similar customs, which we could define as archaic. In these five regions, the local populations drank glacier water and followed different diets.
He spent about six years studying the water of the Hunza trying to understand what made it so special and, above all, what benefits this water had on the human body. He then discovered that Hunza water has a high pH – it is therefore an alkaline water – an extraordinary amount of active hydrogen, considerable antioxidant power and a high content of colloidal minerals.
Most scholars attributed their exceptional health and longevity to their diet as a whole, but Dr Henri Coanda noted: 'I HAVE DISCOVERED THAT THEIR HEALTH IS DUE TO THE WATER THEY DRINK.
This water has anomalous properties that are not found anywhere else in the world'. Then turning to his assistant Patrick Flanagan: 'PATRICK, SOME PEOPLE BELIEVE WE ARE WHAT WE EAT, BUT WE ARE WHAT WE DRINK.
(source: Microhydrin TM: Technical Information, Airlington Publications, Dallas 1998, str.)
The Hunza's water came from high altitude Himalayan springs. For more than 60 years, Coanda tried to artificially recreate similar water, but without success. At the age of 78, he passed the task on to a genius scientist, 18-year-old Patrick Flanagan, who continued the research but only succeeded in the 1990s in producing MICROHYDRINE, a water that, according to this scientist, has exceptional healing properties.
The answer to these properties would again seem to be not in its composition (which is of course the same for all waters) but in its STRUCTURE.
The molecular structure is in fact 'THE ALPHABET OF WATER' and if one learns to know it, one can construct 'THE MOST APPROPRIATE PHRASES' of which water is the bearer, interacting, for example, with the body's cellular water and thus contributing various properties.
And here the mystery is revealed. The water that flows in this valley (of Eden) is an anomalous water in that its properties change depending on the geographical location.
In fact, water does not have the same properties everywhere but these change according to location. Such variations are called anomalous properties. And indeed, in the Hunza region, water freezes at a different temperature than ordinary water, has a different viscosity, a different surface tension.
And it is for all these reasons that this water is unique in the world and it is thanks to it that the Hunza are the longest-living and healthiest population in the world. This water seems to have everything the body needs, so this valley seems to be a must for those who want to live longer.
'We are what we drink'.