The Outdoors Passion start-up offers a practical, durable and innovative product that intends to change the way camping is done. $15,000 in funding ready for the idea
The Patent is back in search of the most creative ideas to tell you how far inventors' imagination and skill can go.
Let's discover "Ecoeshiner (ES) Portable Solar Folding Table", the practical and handy camping table that doubles as a solar panel. A long and unattractive name, let's be honest, but an interesting and noteworthy idea that on kickstarter has already raised an impressive $15,000.
Outdoors Passion's startup is simple: provide the customer with a product that combines a camping table with a 30W solar panel. Better space management when travelling and, of course, less material to carry with you, attached to your backpack, when hiking.
With a load capacity of 10kg, a practical and flexible folding design, and an anti-cut and water-repellent coating, it looks like we are dealing with a great product. We should also add that, as we can also see in the video, the table is very easy to assemble and very light to transport.
The surface is covered with PE protective film, as stated on their kickstarter, which can protect 'ES' from acid rain or saline-alkaline water. They have thought of everything. The structure is solid, durable and rustproof, suitable for hot and sunny climates but also for heavy rain.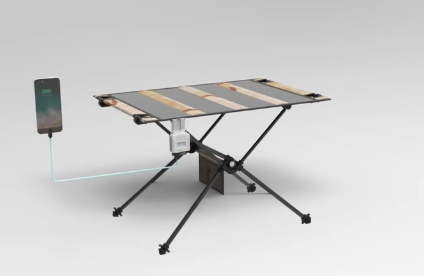 Want to know more? Watch the video
Author: Alessandro Volpe