The maker scene meets again after a 3-year break due to the pandemic
Austria's largest Do-It-Yourself festival is back: At the Maker Faire Vienna on 03 and 04 June 2023 in the METAStadt Vienna, the motto will once again be "Marvel, Participate, Try!". Tickets are already available and exhibitors can still apply until 28 February.
VIENNA/AUSTRIA – After a break of 3 years due to the pandemic, visitors can look forward to an exciting mix of exhibitors, workshops, hands-on stations and lectures at the 5th edition of the Maker Faire Vienna 03 & 04 June 2023 in Vienna's METAStadt.

900 exhibitors and 10,000 visitors
Alongside events of the same name in Paris, Hanover and Rome, the Maker Faire in Vienna is one of the largest Maker Faires in Europe. In 2023, 900 do-it-yourselfers, tinkerers, creatives and start-ups are expected as exhibitors and 10,000 visitors.

Under the motto "Makers for Future", the Maker Faire Vienna 2023 is dedicated to new innovative ideas and solutions for shaping the future: What contribution can Maker projects make to mastering the great challenges of our time? A special focus will be on the topic of Circular Economy. Detailed programme contents will be published in the coming weeks.

For one weekend there will be soldering, programming, hammering, screwing, sawing, 3D printing and sewing. At the interface between technology, art, science and craft, innovative and creative projects will be made accessible to the public and visitors of all ages will be encouraged to experiment and try things out.

Call for Makers – registration until 28.02.2023
Anyone who would like to exhibit their project at the Maker Faire Vienna, organise a workshop or give a short talk on topics related to technology, innovation and creativity has the opportunity to register via the Call for Makers until 28 February 2023. Thematically, there are hardly any restrictions: Whether technology, crafting & handicrafts, art & design, science & research or hobbies – the more diverse and individual the better!

Ticket sales started
Tickets for the event (from 9.90 EUR, children up to 5 years free) are already available online in advance. Link to the ticket shop: www.makerfairevienna.com/tickets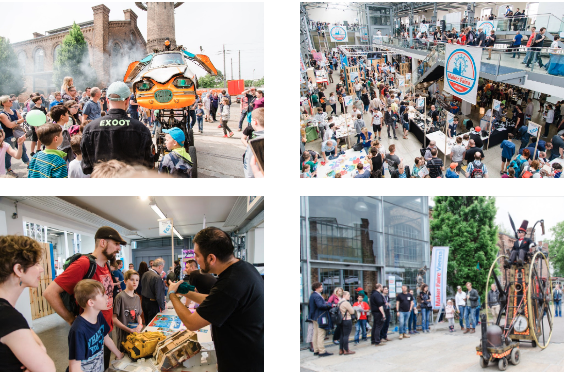 About the Maker Faire:
The Maker Faire originated in the USA. The Americans speak of "The Greatest Show (& Tell) on Earth" and mean that a Maker Faire is on the one hand an inventors' fair, on the other hand a kind of fair and at the same time something completely new. It is a family-friendly festival for innovation, creativity and technology.
Makers come together here to present their projects to a broad public. Makers are do-it-yourselfers who enjoy experimenting, creative minds, technology enthusiasts and can be found in all age groups. They are eager to learn, but also to impart knowledge and are happy to share their inventions and experiences. For some exhibitors, their presence at the Maker Faire is also the start of a successful start-up.
"Touching and trying things out" is very important. At every Maker Faire there are many interesting hands-on stations, supplemented by exciting lectures and workshops. Children and schoolchildren will be inspired in a creative and playful way for science, technology and the fun handling of materials and tools. The focus is on having fun.
In April 2016, the Maker Faire made its first stop in Vienna. In 2023, the Maker Faire will take place for the fifth time in Vienna after a 3-year break due to the pandemic.
Further information: www.makerfairevienna.com
Call for Makers: https://bit.ly/CFMMFV2023DE
You can download press photos here: www.makerfairevienna.com/presse