The 4 th LexTalk World Global Hybrid Conference was held at Millennium Plaza Downtown Hotel, Dubai, UAE. The global legal conference has gained immense popularity over the period of 3 consecutive conferences starting with Dubai in April 2021, March 2022 and in Singapore in November 2022.
Brought to the international legal fraternity by ClickAway Creators, the 4 th conference was attended by 600 plus participants which included global legal professionals from the corporate sector (in house counsels of Fortune 500 companies), Global Law Firms, Individual Legal Practitioners and Legal Technology personnel.
The Conference was held in association with APCAM, GLA (Global Lawyers Association), AADR (Asian Institute of Alternative Dispute Resolution), IIAM (Indian Institute of Arbitration and Management), SILF (Society of Indian Law Firms), The Law Society of Singapore, INBA (Indian National Bar Association), and Indian National Association of Legal Professionals.
The Platinum Sponsors of the conference were ZOHO and EY, Diamond Sponsors were Vihang Adcon Pvt Ltd and iSON, and Gold Sponsor was GORODISSKY. The Cocktail Sponsor was PRIMECASE and the Lanyard Sponsor was Jalubro Consulting.
The Prominent Sponsors were LexisNexis, MikeLegal, CJA and Princess Immigration Services. The Media Sponsors were THE JURISPRUDENCE magazine, Conventus Law, India Law Journal, LAWTELLER, the Oath, ICLG.com, C1OTech Outlook, LatestLaws.com, THE PATENT Invention Magazine, and Industry Outlook. The Travel Partner were MHI.
The advisory board members of the LexTalk World have some very eminent global legal personalities like, Graham Lee, Dr Yasser Abo Ismail, Adrian Tan, Dr Lalit Bhasin, Dr Aman Trehan, Charles N Bowen, Prantap Kalra, Edward Walker, Fayiaz Chaudhry, Bhavin Mehta and Gaurav Mediratta.
The exhibitors who had their booths in the venue of the 4 th LexTalk World Global Hybrid Conference were Zoho, EY, Vihang Adcon Pvt Ltd, The Oath Legal magazine, and Princess Immigration Services.
First Day – 24 th May 2023
The opening session of the conference started with the keynote speech by His Excellency Dr Abdelrahman Almuaini, Dr Almuaini is a distinguished intellectual property (IP) expert with a
wealth of experience in the field. He currently serves as the Assistant Undersecretary in the Ministry of Economy, Dubai UAE.
Keynote Speech: Alternative Dispute Resolution Mechanism – Is It a Reality, by Dr Lalit Bhasin. It was followed by honouring the virtual awardees with Lex Falcon Global Awards.
The entire conference was held in two halls – Hall A focussed on Legal & legal Technology and Hall B's focus was on Intellectual Property.
The sessions in Hall A were –
Panel Discussions:a) Risks, Reputation, Responsibility: ESG Management with a real impact. The same was
attended by Bhavin Mehta, Matthew Nobles, Ahmed Kandil, Minkyu Kim, and Karthik Venkata.
b) Arbitration vs Mediation, the Various Alternative Dispute Resolutions in GCC & Asia by Tasaduk Wani, Shaharyar Nashat, Felipe Arboleda-Marquez, and Selim Sariibrahimoglu.
c) Global Risk Mapping: Leveraging your Due Diligence to Mitigate Multi-Jurisdictional Risks by Leila Sassi, Saloni Tuteja, and Edith Nordmann.
d) Data Privacy and Data Security: How to Comply with Regulations? By Emel Nakay, Noor Maki, Nahla El Adany, Nicholas Jayna, and Manish Gaurav.
Case Study Presentations:
a) Transforming Contract Management: Emiza's Success Story with Zoho by Ali Shabdar, Regional Director Middle East and Africa at Zoho Corp.
b) Merger & Amalgamation: Factory Compliances Risk and Mitigation by Dhavalkumar Soni, Associate Director – Business Development at Vihang Adcon Pvt Ltd Round Table Discussion: Building Bridges to a Complete Legal Ecosystem: Getting Lawyers off an Island. The discussion was participated by Esteban Ruete, Raghav Mathur, Nadim Elias El Haj, Mohamad Al Darwish, and Sharifah Thaherah.
The sessions in Hall B were –
Panel Discussions:
a) Transformation of IP, Patent, Trademark & Copyright: Major Shift to Enhance GCC and Asian IP Industry, by Amr Eldakak, and Munir Suboh.
b) Envisioning the Future of Law: the legal functions in 2030, by Majdoleen Aboudi, Shilpa Bhasin Mehra, Tarek Nakkach, Gaurav Mediratta.
c) NFTs, Metaverse, Blockchain – is the hype real? by Stefka Bratoevska, Persis Hodiwalla, Tammi McMahon-Panther, and Paolo Morresi.
d) Compliance with Intellectual Property Laws: A Future Perspective, by Fatima Al Qubaisi, Halil Ibrahim Kardicali, and Cameron Crawford. A quick speech by an Industry Leader: Using Technology to Outsource In-House Legal Operations by Gusai Almomani, Co-Founder of ScaleUp Advisory Firm.
Case Study Presentation: LegalTech and Online Brand Protection by Sergey Medvedev, Partner Gorodissky.
Round Table Discussion: The Globalization of Law and its Impact on Cross-Border Transactions by
Bijan Brahmbhatt, Dr. Lalit Bhasin, Raghvendra Verma, Vasanthan Baskaran.
Second Day – 25 th May 2023
The 2 nd day started with a very interesting Keynote Speech by Fayiaz Chaudhri Chief Legal Officer, TONOMUS on the topic – The Metaverse Experience, transcending physical and digital divides.
It was followed by a Case Study Presentation on the subject, Legal Cybersecurity Landscape: an effective and integrated privacy and cybersecurity compliance framework. It was participated by Wayne Barnett Lead Senior Legal Counsel, SAP Gaurav Mediratta Group General Counsel, Landmark Group.
The same was followed by another Keynote Speech – The Metaverse Experience, transcending physical and digital divides – by Ajuni Chawla, Principal Consultant, Emerging Markets at Jalubro Consulting, UK.
The conference bifurcated into the two halls, Hall A & B.
The sessions in Hall A were –
Panel Discussions:
a) Anti-Bribery & Corruption (ABC) Policy and Compliance Controls, by Rajesh Jangra, Dr. Yasser Abo Ismail, Sameet Gambhir, and Ahmed Osama.
b) Litigation and E-Discovery: Human-Centric Approach to the Legal Tech Revolution by Dhritimaan Shukla, Asmita A. Nayak, Sanjay Gulati, and Sanjay Jain.
The sessions in Hall B were –
Panel Discussions:
a) Protecting IP and Data in the Age of AI: Time for a new approach? The same was participated
by Vara Gaur, Karim El Helaly, Ahmad Saleh, and Jinane Kabbara.
b) Innovation, Technology, and the Promulgation of International Dispute Resolution
Procedures, by Anku Khanna, Pallavi Shroff, and Asaf Göktuğ AKDERE.
c) The Intersection of GRC (Governance, Risk Management, and Compliance) and Technology:
Opportunities, Challenges, and Best Practices, by Raghvendra Verma, Monika Sharma, and Ali Shabdar.
A quick speech by an Industry Leader: Future Prospects for Green Energy Disputes by Dr Mohamed Elmogy, Regional Legal Counsel, Middle East and North East Africa, Siemens Energy.
The day's sessions were concluded with conferring the Lex Falcon Global Awards in the categories – Rising, Emerging, Leader and Inspiring to some virtual and physical awardees with the Lex Falcon Global Awards. The total number of awards that were awarded to 166 awardees (physical + virtual)
The Lifetime Achievement Award was conferred to Mr Shardul Shroff of Shardul Amarchand Mangaldas & Co.
The 2 days of eventful conference came to an end with networking session over cocktails.
The feedback from all the participants which included speakers, sponsors, awardees and delegates to the 4 th LexTalk World Global Hybrid Conference, Dubai, was exemplary and outstanding. There were lots of learnings and new global connectivity between professionals.
.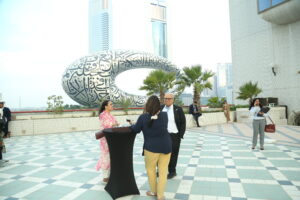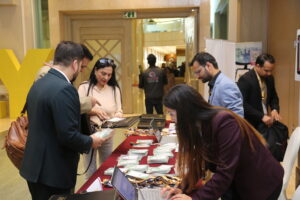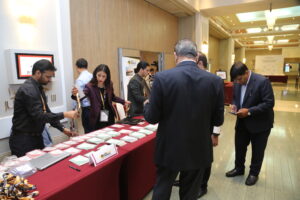 Author: Press Release of LexTalk World Global Hybrid