The new tool promises to help people with ALS
To be able to effectively guide a drone with a glance, is no longer a utopia or a fantasy as teenagers, but rather a magic that becomes reality.
That dreamed and imagined future has finally arrived, to be precise in the warm island of Sardinia where, for the first time, the flight of a drone piloted only with the look has been carried out.
The test took place in the Aliquirra airfield, within the perimeter of the airspace of the Interforse Polygon of the Quirra Jump (PISQ), coordinated by the 3D Aerospace company – a member of the Aerospace District of Sardinia (DASS).
"We have technically demonstrated that it is possible, for a person, to control a drone with the sole help of the eye while maintaining wide margins of safety", says Commander Antonio Depau of 3DAerospazio.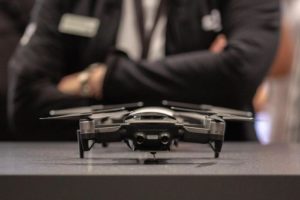 The innovative tool, thanks to a duly modified eyepiece pointer, allows the aspiring pilot to manage the entire envelope of the drone maneuvers exclusively by pointing the gaze on a computer screen. In fact, the presence of a safety pilot, allows the control of the device is never lost even in case of unforeseen events while the computer screen also displays the images taken by the drone, thus allowing you to know in real time the situation of the device without having to take your eyes off the controls.
A great invention, where Giacomo Cao, President of DASS, says he is really enthusiastic:
"We are happy with this result. This is another important opportunity to show that the good and strong synergies can achieve important and very useful goals, not only at regional level, but also nationally. This new invention can improve the quality of life of patients suffering from terrible diseases".
According to the Dass experts, in fact, the new tool is able to allow people with amyotrophic lateral sclerosis (ALS) or patients who have suffered severe spinal trauma, to pilot and view images of the surrounding environment in real time.
Among the participants of the project, also the National Civil Aviation Authority (ENAC), which offered its advice.
"Thanks to the skills acquired and the support of technology, it will be possible to provide further new possibilities for people with ALS. As is well known, these patients, who have an increasing impairment of motor activity, usually keep intact their mental, cognitive and thinking abilities: they are aware and know what is happening to them and often, in the more advanced stages of the disease, communicate with family and friends via a computer". The deputy director of ENAC, Alessandro Cardi, explained.