On Kickstarter started the crowdfunding for Coffejack, the smallest coffee machine ever designed: it measures just 10 centimeters and guarantees the same quality of the bar.
The pocket sized barista: the barista in your pocket. This is the payoff of Coffejack, the world's smallest coffee machine designed by Ashley Hribar-Green and Matthew Aston Cain. After three years of testing and 392 prototypes developed, the two Hribacain designers launched the crowdfunding on Kickstarter to finance the final model of Coffejack. It's a real miniature coffee machine. It measures just ten centimetres high, weighs a few dozen grams but guarantees (according to its creators) the same results as a bar machine. Coffejack allows you to prepare your coffee quickly and easily. Just put 14 grams of powder in the base of the portable machine, pour the water at the top and press a button for a few seconds. Thanks to a mechanical gear, Coffejack is able to generate a pressure of 9 bar (the same as the professional coffee machines) and dispense an espresso, a latte macchiato or a cappuccino of comparable quality to those prepared with traditional machines. All in respect of the environment: the system, in fact, does not provide for the use of pods or disposable capsules and aims to reduce the pollution associated with the world of coffee.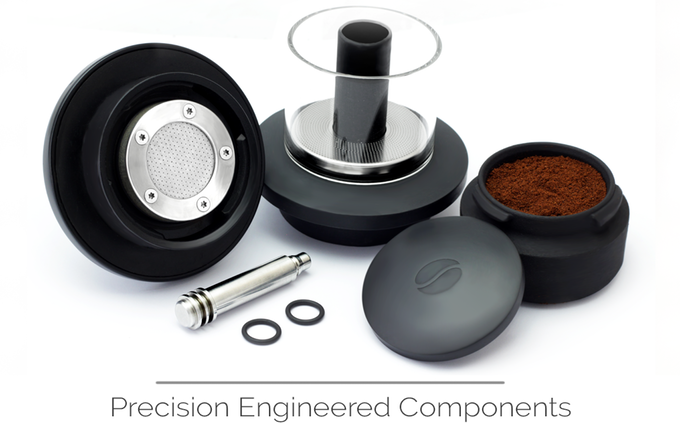 Coffejack: the world's smallest coffee machine on Kickstarter
On Kickstarter, the two designers explained why they came up with Coffejack. "We were tired of throwing money into expensive portable coffee makers, especially as we never found one that would guarantee an espresso coffee of the same quality as our home coffee shop. For this reason, we still went to expensive coffee shops every day! Second, we were guilty of using disposable cups, for convenience only. We knew we could design something better, something that satisfied our desire for a big coffee and at the same time helped the environment. We can't explain how much passion and tenacity we invested in this project. It is in fact the smallest espresso machine available on the market, measuring only 100 millimetres in height. But above all, it actually produces a coffee of the same quality as the coffee shops. It was not easy to accomplish this task and we did not stop until the result met the high quality standards of the coffee industry and ours. After 392 prototypes and a patent pending, we finally did it. The crowdfunding started 4 weeks ago and raised almost 700,000 euros. Until 20 December, it is possible to pre-order Coffejack at a price of £69 (about 81 euros): the first shipments are scheduled for May 2020.