Thanks to an algorithm, the closed scooter is able to advance even when closed in a vertical position, as if by magic, without tiring the user.
One of the key words of the new decade is "environment". One of the aspects of our everyday life that we can change concerns means of transport. The recent trend has seen an increase in the number of people using environmentally friendly alternatives to cars, such as bikes and scooters.
Both solutions had a boost thanks to the development of electric versions. The additional power provided by the engine means that they can also be used on routes that are not entirely flat. The Mantour X, an electric scooter produced by FlowDot, can also be found in the already vast market.
What makes the Mantour X special?
At first glance, the scooter may look like an ordinary electric scooter, but it is special when closed. Once closed, the Mantour X is compact and measures about 80 x 14 x 18 cm, for a total weight of 7.3 kg. The scooter, however, is able to remain in a vertical position on the front wheel thanks to an algorithm. In this way, the user can carry it around with just one finger and without any effort!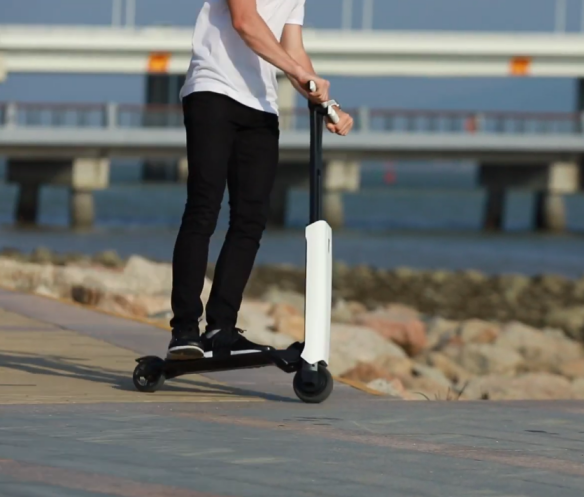 Mantour X can go from bent to ready to run in less than 5 seconds. The scooter is equipped with a 240 W engine that guarantees a maximum speed of 20 Km/h, with a maximum range of 20 km. The battery is fully recharged in 4 hours and a LED display on the steering wheel informs us of the running speed and residual charge. The vehicle is equipped with a rear physical brake and a front LED headlight.
FlowDot is proposing its project on Kickstarter and it already achieved the first targets. The distribution should start in March 2020.