Elon Musk, eclectic billionaire founder of Neuralink, said his biotech company will soon be able to make a brain link between man and machine.
Science fiction could become reality. Elon Musk – eccentric founder and creator of projects like Paypal, Tesla, Hyperloop and SpaceX – announced that his company Neuralink is very close to creating a brain link between man and machine. In an interview with American commentator Joe Rogan, Musk revealed the details of the project his team has been working on since 2016. The brain implants should allow to directly connect the human brain with Artificial Intelligence to repair brain injuries or permanent neurological damage. "We expect to have these devices in place within a year. Basically, you drill a hole in the skull, which leaves only a small scar, and insert the device," Musk explained. In particular, Neuralink scientists are working to create the "wires" that will allow the connection between man and machine: they will be just 1 micrometer thick (10 times thinner than a human hair) but extremely flexible and resistant.
You might also be interested in —> "The Portrait of Edmond Belamy": the first painting made by artificial intelligence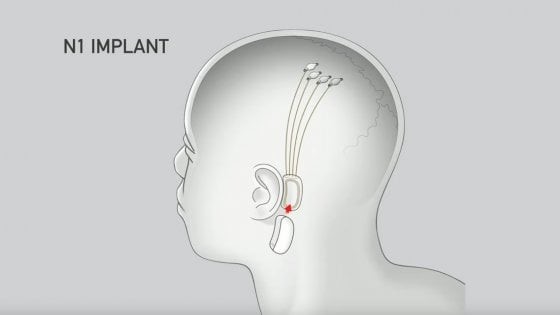 Neuralink: tests for man-machine connection are now underway
The applications of the Neuralink project are almost endless. Musk focused on possible applications in healthcare, where the man-machine connection could repair brain injuries or permanent neurological damage. "This implant could really help people to live better. Repairing brain injuries could allow paraplegics to walk again, for example," Musk said. "This technology could evolve into a kind of complete brain interface, which would allow for 'symbiosis' between humans and AI. The chip could also change the way relations between humans occur. A symbiosis with AI is desirable, as we must learn to keep up with the technology. We are already a bit "cyborg", after all, when we lose the phone we feel like we have lost a limb. We haven't started human testing yet, but I don't think we'll wait long. We may be able to implant a neural link in a person in less than a year. In just over 25 years, we might be able to create an entire brain interface so that all of a person's neurons are connected to an extension. It's a bit like when we leave traces of ourselves in our computers and smartphones, only in this case it would be a more abundant portion of our identities in the cloud.
You may also be interested in —> Coronavirus, artificial intelligence for immediate diagnosis