Three Portuguese researchers have designed a pool table that uses Virtual Reality to "guide" the shots and help during training.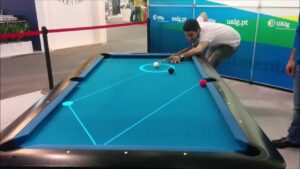 Getting in the hole has never been easier! Luis Sousa, Ricardo Alves and JMF Rodrigues from the University of Algarve in Portugal have designed a special pool table that uses Virtual Reality to make the pool game, the famous "American pools", easier. The goal is to allow players – especially novice players – to learn how to play and improve quickly, as if there is always "a master" to guide their moves. The project is called Pool Live Aid and is based on a complex software system. A camera mounted on the ceiling at the playing board detects all factors that may affect the shot: the position of the player, the angle of the cue and the position of the balls. After acquiring the images, an algorithm calculates the different trajectories available and the chances of success of each playable shot. The best result (i.e. the shot that is most likely to end up in the hole) is displayed thanks to a laser projector that projects the trajectory directly onto the playing board.
You might also be interested in —> Marvel's Iron Man VR: The Virtual Reality Video Game Revolution on July 3
The pool of the future is in Augmented Reality
Thanks to Pool Live Aid, playing "real pools" will be like playing a video game. As in a PC or smartphone video game, in fact, players will only have to respect the trajectory drawn by the laser beam on the green cloth. As if that wasn't enough, the software of Luis Sousa, Ricardo Alves and JMF Rodrigues can also record your bets: videos can be saved and shared on social networks such as Facebook or Instagram.
After having perfected the system in Augmented Reality, the three Portuguese researchers are working to develop a social network (integrated with Pool Live Aid) dedicated exclusively to pools in which users will be able to share videos of their departure and interact each other. For example, players will be able to evaluate the trajectory suggested b245ry the system (which in this way can improve shot after shot), share patterns or train with preset game situations. Pools is only one of the fields of application of Virtual Reality. In recent years, major software houses have launched numerous projects for the development of VR projects ranging from entertainment to publishing 2.0. One of the most ambitious is undoubtedly Playstation VR, the new virtual reality system linked to PlayStation 4 (MORE).