Samsung's SmarTag+ is a wireless sensor that uses the UWB network to create a community for finding lost keys, wallets, backpacks, suitcases and other items
Goodbye lost luggage at the airport! Never again will we have to "hunt" for our wallets in the train carriages just minutes before arriving at the station! Thanks to SmarTag+ , even the most forgetful and hopelessly absent-minded will be able to find all their lost items. It is an innovative technology developed by Samsung. SmarTag+ are tiny chips with wireless sensors that can be placed on everyday objects such as bags, wallets, keys, backpacks and suitcases. Thanks to the UWB (Ultra Wide Band) network, these devices can be identified and located via a smartphone app (Smart Things). So far, this is nothing new: geolocalisation by means of tags has been around for a long time and is often used to find lost objects in a limited area. What's new – and why these SmarTags have a '+' in their name – is that Samsung's new technology also works remotely! Through an integration of UWB and Bluetooth, the Korean engineers have managed to ensure that the tag can be identified not only by the phone of the rightful owner but also by all the other users of the "Smart Things" community.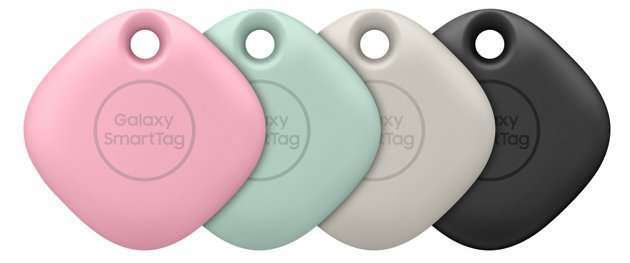 You might also be interested in -> Memo Food Clip: the clothes peg that reminds you when food is due
The Samsung SmartTag+ community
Let's imagine we lose our backpack at the airport. Our plane leaves (we can't stay on the ground) and we are forced to suspend our search to board. Is our luggage lost forever? Not at all! Thanks to Bluetooth, the SmarTag+ placed on our backpack can be identified by anyone who has downloaded the Smart Things app and given their consent to geolocation. In this way, a network is formed, a real community that allows the legitimate owner to report the lost object to other users and get directions to find it. All of this is completely secure because the data is encrypted and therefore cannot be used for any other purpose. Samsung's SmarTag+ will debut on the US market in the coming months and is expected to arrive in the rest of the world by the end of 2021. The price is not yet known – it should be quite affordable, rumours say around 50 dollars – but we are sure that many will be willing to pay any amount to sleep soundly and not have to worry about losing their items! 
Read also -> The 'robotic' pool cue is foolproof: video