It is one of the best inventions of 2019
"Until now, no one has ever used only flexible components in a systematic way as we have done in creating a lithium-ion battery", says coordinator Markus Niederberger, an expert in multifunctional materials at the ETH Zurich, who presented the first elastic battery created by his staff of researchers.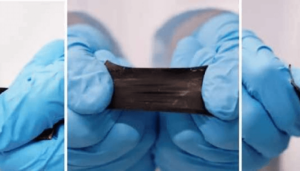 Completely flexible, the battery can be folded, stretched, knotted and even wrapped around itself. This is the first time in the world that we talk about truly elastic batteries that can bend, deform and alter their appearance without stopping operating.
The new product can be used to power the most common devices such as PCs, tablets or smartphones. But not only that, it can also be sewn on fabrics in order to give energy to wearable technologies of the near future.
Made with two current collectors for the cathode and the anode thanks to the use of a composite polymer folding, to make really this battery even more unique is the electrolyte, or a water-based gel, rich in a lithium salt, which as a whole is less dangerous to the environment than other substances used today in traditional batteries.
The innovative product has a thin layer of silver scales, a few thousandths of a millimeter large, slightly overlapped so as to remain in contact with each other even when the elastomer is stretched. Even if the flakes were to lose contact, the current would be able to flow, albeit weaker, thanks to the presence of carbon, which is the composite material.