LG presented Column Garden, a "smart garden" for indoor growing that allows you to control light, temperature and humidity through apps.
Having a garden or a home garden is the dream of many. Picking tomatoes directly from the windowsill, smelling the scent of herbs and seeing the little flowers sprouting behind the windows are unique emotions. In big cities, however, all this is very difficult to achieve: between smog, building chaos and hectic routine it can become really impossible to devote yourself to gardening. So here comes technology to help the green thumb: the electronics giant LG, for example, has just launched Column Garden. It is a real "smart garden" for indoor cultivation that allows you to control light, temperature and humidity through apps. The project was presented during the Consumer Electronics Show (CES) 2020, one of the most important international exhibitions dedicated to technological innovation that took place in Las Vegas from January 7 to 10. Song Dae-hyun, President of LG Electronics Home Appliance & Air Solution Company, presented Column Garden stating that "our first indoor gardening solution represents a new paradigm for LG in the home appliance industry and combines healthy eating with the joy of growing your own food.
You might also like —> Memo Food Clip: the clip that reminds you of the expiration of food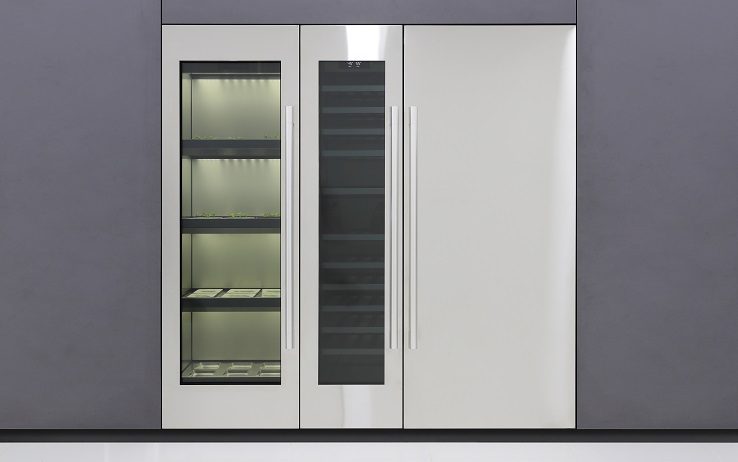 How Column Garden works: LG's indoor garden
Column Garden is an authentic concentrate of "green technology". On the outside, the device resembles a simple satin refrigerator with a modular structure. But it is inside that the technology is hidden: Column Garden is equipped with sensors capable of replicating the optimal weather conditions for the growth of flowers, vegetables and fruit. LG has in fact developed low consumption LED lights capable of reproducing variations in sunlight during the day, a forced air circulation system that ensures proper oxygenation of plants (and prevents the onset of mold, algae and odors) and a drip irrigation system that limits water wastage to a minimum. Column Garden can contain a maximum of 24 specially developed sowing trays: each one contains peat, fertilizer and seeds (a choice of basil, lettuce, chicory and rocket and another fifteen or so vegetables) sufficient to meet the nutritional needs of a family of 4. In addition to being eco-sustainable, Column Garden is also smart: the entire system can be controlled via a smartphone app that allows you to change the "vital parameters" (light, water, humidity, temperature) of the indoor garden and provides tips to improve your "green thumb". The device should be on the market by the end of 2020.
You might also like —> Synthetic meat: from Harvard steak with the same consistency as beef