The U.S. company Real Graphene has developed a lithium-graphene hybrid battery for smartphone that can accelerate the charging by 500% and "extend" their life considerably. 
The nightmare of finding yourself in the middle of the day with an empty smartphone could soon become just a (bad) memory. Thanks to the extraordinary properties of graphene. And to the US company Real Graphene, world leader in the production of this nanomaterial. During the last edition of the CES in Las Vegas, CEO Samuel Gong announced the upcoming market launch of a smartphone battery capable of exploiting the amazing properties of graphene. "People always think that graphene is a thing of the future, but I'm here to correct them. It's here now. We've created a battery that recharges very quickly, it's very cold and has a long life in terms of charging cycles. Graphene is a nanomaterial discovered in 2004 by physicists Andrej Gejm and Konstantin Novosëlov from the University of Manchester. The special structure of the atoms (hybridized in the sp2 form) makes graphene extremely resistant, 200 times lighter than steel and capable of conducting heat with very low resistance. Precisely because of these properties, graphene has often been used in the construction industry, in aerospace engineering but also in the fashion industry for the production of technical and tailoring garments. No one, however, had so far managed to build a smartphone battery with graphene inserts.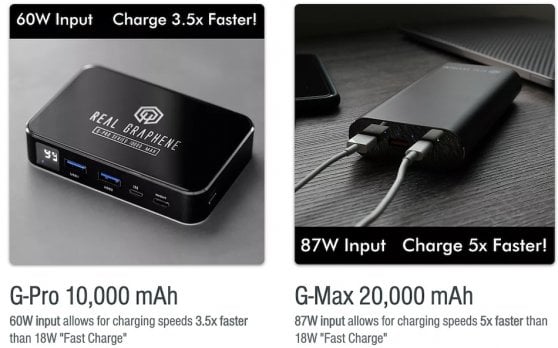 A graphene battery for high-end smartphones
Real Graphene has already developed two models of lithium-graphene batteries, one 10,000 mAh and one 20,000 mAh. For the moment, the batteries have been "mounted" on two powerbank models – the G-Pro and the G-Max – for charging portable devices. But the big challenge for the US company is to integrate these same batteries into smartphones. With surprising results: according to the company's estimates, the nanomaterial should allow a 3,000 mAh battery (the capacity of the most powerful smartphone batteries on the market today) to fully recharge in 20 minutes using a 60W power supply. In addition, the use of graphene could also "extend" the life of the devices: it will be possible to reach the threshold of 1500 charge and discharge cycles compared to 300/500 today. Real Graphene's goal is to establish a commercial agreement to install lithium-graphene batteries on smartphones by 2021. Samuel Gong has not mentioned the names of the smartphone manufacturers involved in the project but it is clear that the novelty will concern, at least at the beginning, only high-end devices. Graphene costs 30% more than the lithium normally used for mobile phone batteries: a price difference difficult (if not impossible) to amortize in low and middle cost products.