The genetic sequence of SARS-CoV-2 was published on 11 January 2020, triggering the frantic search for a vaccine worldwide. Let's see how many of them exist and at what stage is the experimentation

Since the beginning of the year, a great deal of information about active vaccines against the new coronavirus has been circulating on the Internet. The research is financed both by public institutions, such as universities, and by private bodies, pharmaceutical companies in the first place. Nature has collected all the existing data in an analysis published on 8 April. At the day of publication, there are 115 candidate vaccines for COVID-19. Of these, 78 are active against the virus and 37 have unconfirmed activity.
Of the 78 active vaccines, 73 are currently in an advanced or pre-clinical phase of study, with tests carried out in vitro or on animals. Among the most promising candidates are mRNA-1273 from Moderna, Ad5-nCoV from CanSino Biologicals, INO-4800 from Inovio, LV-SMENP-DC and pathogen-specific aAPC from Shenzhen Geno-Immune Medical Institute. The types of vaccine vary widely, including nucleic acid (DNA and RNA), virus-like particle, peptide, viral vector, recombinant protein, live attenuated virus and inactivated virus approaches.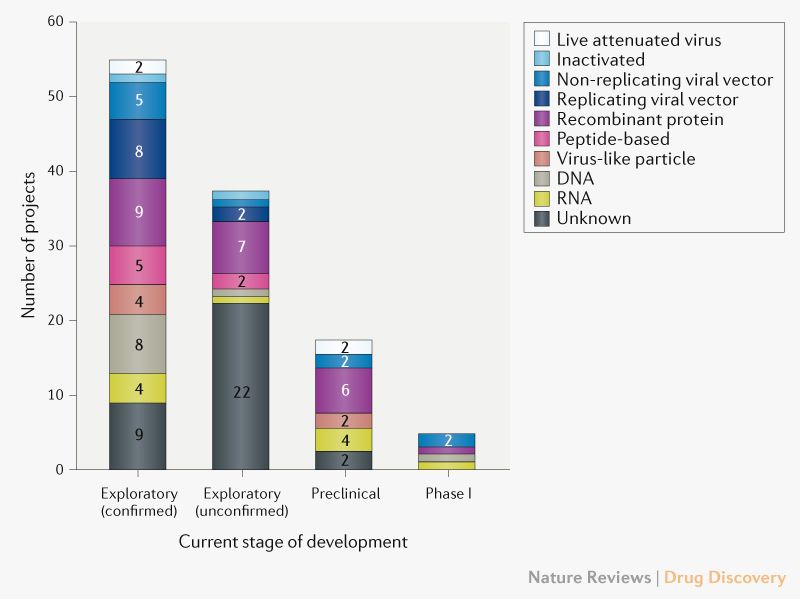 The study lacks solutions using specific antigens due to the limited information made public. The 72% of active vaccine candidates are developed by private industry and the remaining 28% by universities, public bodies or non-profit organizations. The great worldwide effort involves institutes distributed all over the world, with 3/4 of the countries involved. Given the large number of works, there are indications that the vaccine may be available for use in emergency cases in early 2021. As long as it may seem, it would take much less time than the average of 10 years.
The world needs a vaccine quickly and the community has mobilized both technically and financially to provide the necessary support. The pandemic caused by the new coronavirus can only be successfully defeated through a global vaccination programme. This challenge will also provide a solid basis for tackling any future pandemics.