The fast-food giant Kentucky Fried Chicken is experimenting with an innovative 3D printer capable of "printing" its beloved chicken nuggets: the aim is to reduce the environmental impact of animal farming. 
How to reduce the environmental impact of animal husbandry? There are many answers to this question. And some are undoubtedly original. The fast food giant Kentucky Fried Chicken, for example, has thought about using 3D printing technology. Thanks to a partnership with Bioprinting Solutions (a Russian company specialized in biotechnology) the American chain is trying to develop an innovative 3D printer able to "print" the famous chicken bites. The snacks will be produced from chicken cells produced in the laboratory. In this way, no birds will be killed and the emission of pollutants into the environment will be significantly reduced. According to the authors of the project, the 3D printed snacks would lead to a reduction in greenhouse gases of up to 25 times more than halving the energy consumption required by traditional breeding and slaughtering activities. We would like to remind you that the intensive breeding of animals, in particular those flying for food purposes, is one of the most polluting industrial activities in the world and has a very high environmental impact.
Read also → 3D printers: the ice cream that you can "print" from the PC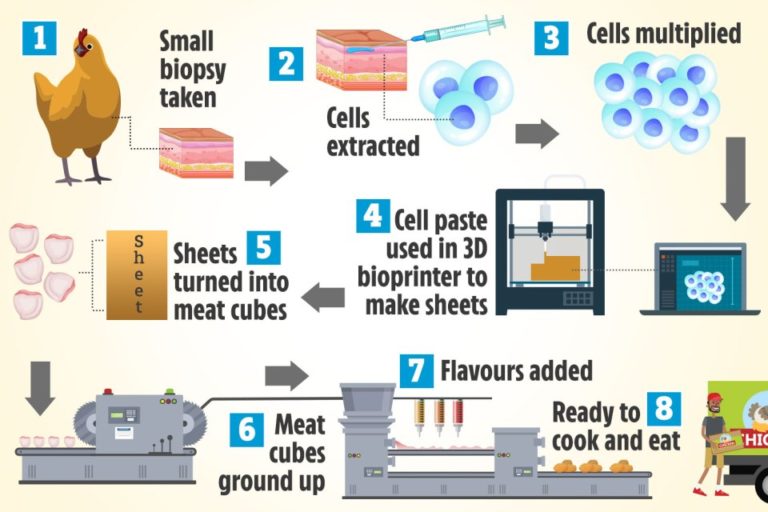 A 3D printer for chicken nuggets?
Kentucky Fried Chicken will provide Russian researchers with the breading and the (very secret) spices used to produce Colonel Sanders' famous chicken bites. The aim is to obtain a product that is identical to the original, both in taste and texture (they also tried it at Harvard: read how it turned out here). The first tests on the nuggets are currently underway in the Bioprinting Solutions laboratories. We still don't know how it will end, but what is certain is that the top management of KFC are very confident. "We are pleased to contribute to the development of the Bioprinting project and we are working to make it available to thousands of people in Russia and, if possible, all over the world", said the general manager of KFC Russia.
You might also be interested in → xPizza One: the "3D printer" for pizza