At just 16 years old, Thanos Tziatzioulis has designed and built a fully functional robotic arm: we interviewed him at Maker Faire Rome.
To see him from afar, Thanos Tziatzioulis looks like a teenager like many others. He's a tall, lanky guy with short hair, thick glasses and a somewhat nerdy look. Just by exchanging a few words with him, however, you can realize that you are dealing with a young man with a truly extraordinary talent. Thanos is a true enfant prodige of robotics. At the "tender" age of 16, this boy born and raised in Athens has already built many fully functional robots and can boast participation in numerous international exhibitions. We met him among the pavilions of Maker Faire Rome 2019, an event during which Thanos presented his latest creation: Hand Of Rob. It is a real robotic arm entirely conceived, designed and built by the 16-year-old Greek. The idea to build this futuristic robotic arm – Thanos explained – was born "when I saw a person in my town have a plastic hand, similar to those that have the dolls in the stores. So, I realized that I could build a hand that could move thanks to the movement of the other hand."
Read also —> Was born Dactyl, the robot that solves Rubik's cube with one hand
Building a robotic arm at 16: the feat of Thanos Tziatzioulis
And he did it for real. Searching for information on the Internet and with the help of a 3D printer, Thanos was able to build a robotic hand very similar to the original. Ligaments, bones and muscles have been replaced by ABS plastic, ropes, metal screws and cables. It weighs about 2 kg and is about the same length as an adult hand. On the outside, the robotic arm is white in color while the wrist is marked with a black band. Hand Of Rob is powered by a five electric motors, plastic gears, screws and metal ropes that play the role of the nerves of the human hand. The robotic arm works thanks to Arduino, a hardware platform consisting of a series of electronic boards equipped with a microcontroller.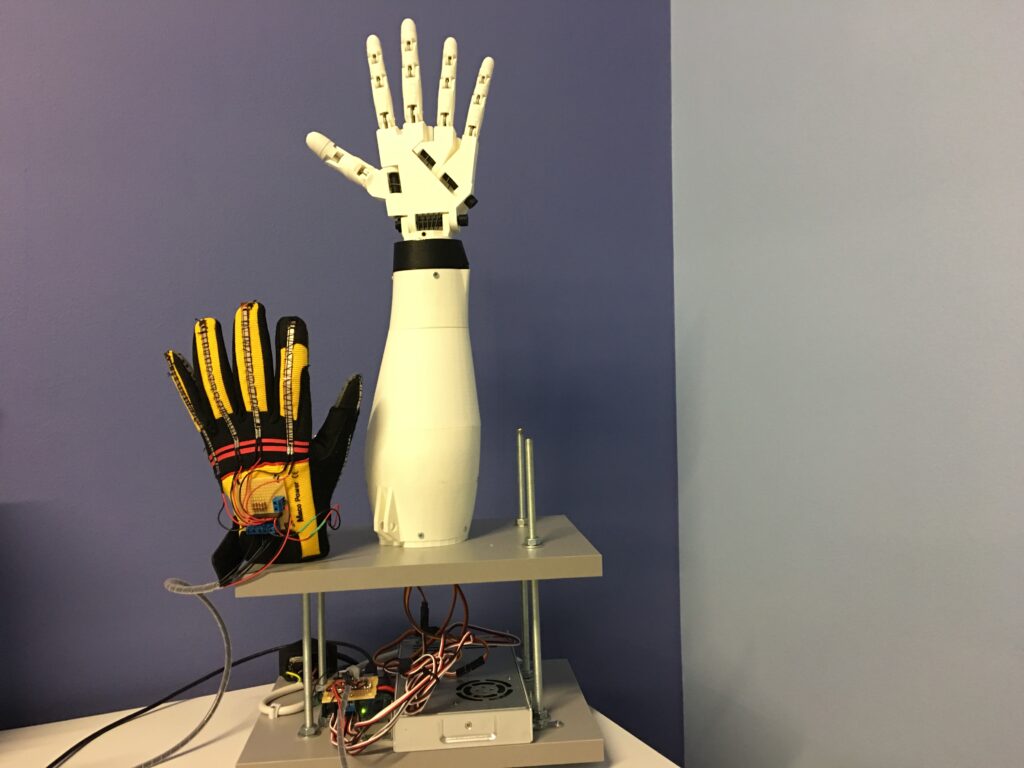 The platform is based on a printed circuit board that integrates a microcontroller with pins connected to I/O ports, a voltage regulator and a USB interface that allows communication with the computer used to program. Inside the robotic arm there are 5 PCB (Printed Circuit Board), 2 cables that transmit power to the motor, 5 cables that transmit data and 7 cables that allow the glove to move. The technological infrastructure is very complex but the operation of the arm is extremely simple and intuitive. To operate Hand Of Rob it is sufficient to wear a glove equipped with special motion sensors. In this way, the robotic arm "integrates" with the muscles and nervous system of the wearer of the glove and is able to transform his will into movement. Just as if it were a real hand. "Arduino controls and transmits the movement of the hand. A glove with five sensors and a plate transmits orders via wireless to Arduino. By programming in C++ language, I was able to create this robotic hand with its fingers mimicking the movements of a human hand. During the period of January to March 2017, the robotic hand was updated with the goal of becoming more user friendly. The user is now able to control the functions of the robotic hand without connecting it to a computer."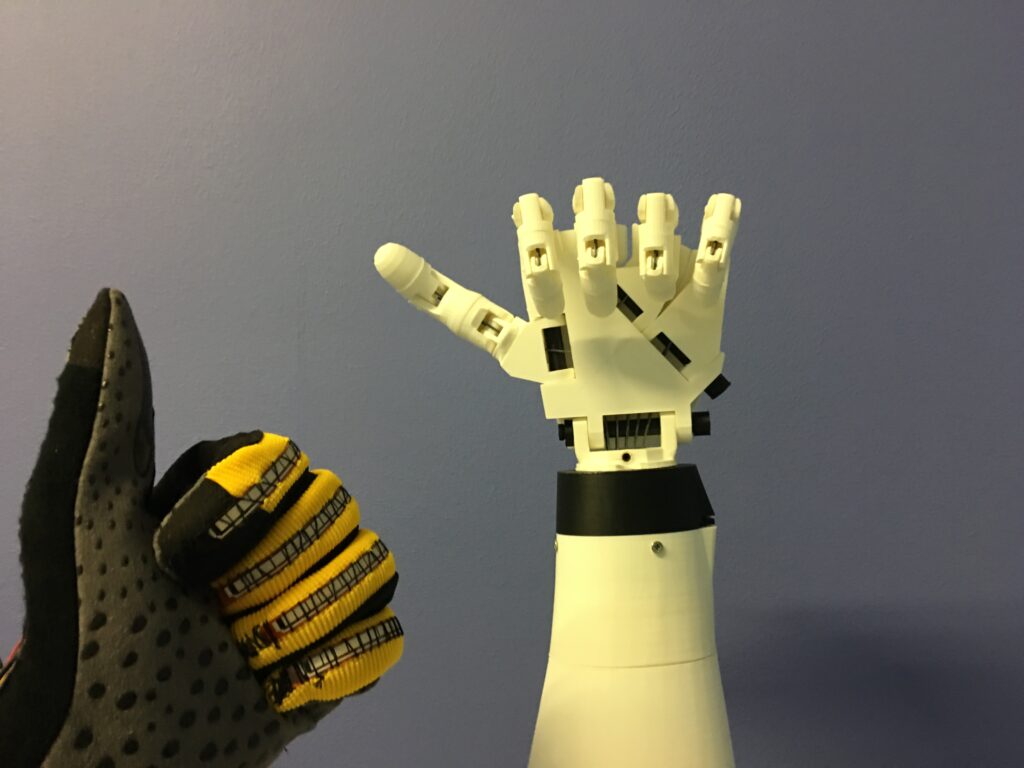 The result is extraordinary: the fingers of Hand of Rob bend very naturally and the thumb can assume three different positions. Just like a real hand. Thanos has not thought about the applications of his project but it is clear that the possibilities are endless. A robotic arm like the one developed by Thanos could be used to help the elderly, disabled and people with deformities. With robotic support, these individuals will be able to regain lost strength and mobility, improving their quality of life. In the future, robotic limbs could also be used for particularly heavy work. We're talking about exoskeletons to strengthen joints and robotic hands that could give us cyborg-like strength and endurance. For the moment, Thanos is not very interested in the possible applications of his technology. He's very focused on the development of the project and in the fall (at just 17 years old) he will begin an undergraduate program at a major American college. The goal is to improve his skills and acquire more and more in-depth knowledge. Obviously, Hand of Rob will fly with him to the USA. The project is constantly updated and Thanos intends to continue working on it in the coming years. University commitments permitting. Over the past few months "I've added a project box, an LCD display and eight buttons each with a different function. Arduino Uno has been upgraded to Arduino Mega ADK and has been moved inside the control unit: the project is a work in progress and I'm sure that in the coming years it will grow with me".
You might also be interested in —> GITA: the cargo robot from Piaggio that follows you everywhere