Chef Valerio Braschi has created distilled carbonara: a shot of liquid as clear as water but with all the flavour of Rome's best-loved pasta dish
Genius is a mix of creativity, intelligence, intuition, imagination and even a pinch of madness. This last "ingredient" is certainly not lacking in Valerio Braschi, the very young chef who won the 2017 edition of Masterchef Italia. Valerio is a true "genius of the cooker" capable of surprising his guests with daring culinary creations and dishes that are decidedly out of the ordinary. The chef's latest idea is decidedly bizarre: it is called 'carbonara distillate' and is a sort of carbonara-flavoured shot! It is a distillate as clear as water but with the taste of the typical Roman dish made with eggs, pecorino cheese and bacon. The liquid is served in 50 ml glasses as an amouse-bouche before the starter. Valerio created this 'distillate' on the occasion of Carbonara Day 2021 (6 April). The first customers who have tasted it assure that it tastes just like the Roman's favourite pasta dish but with 0 calories!
Read also → The world's first bread-based drink: "It's sparkling and sweet".
The distilled carbonara of Valerio Braschi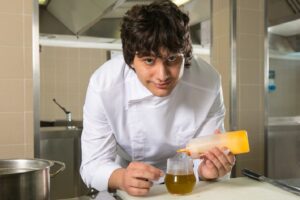 Distilled carbonara is a very complex dish. To make it, you need skills and tools worthy of a chemistry lab. Valerio Braschi explained that it takes more than three hours of work to prepare 300 ml of liquid. The product is prepared by distilling a mixture of pecorino zabaglione, black pepper broth and roast pork cheek cream at low temperature and in a vacuum. The end result is a crystal-clear liquid, as clear as water but with an extremely strong flavour. A real surprise for the palate. Chef Braschi says that the funniest thing about this dish is watching the customers' reaction after the first taste. "We bring a glass full of transparent liquid to the table, without explaining to the customers what it is. They all think it's water and drink it very naturally: only later do they realise that it tastes like carbonara and are amazed.
You might also be interested in → A 3D printer for KFC chicken nuggets?